Blast From the Past: June 1988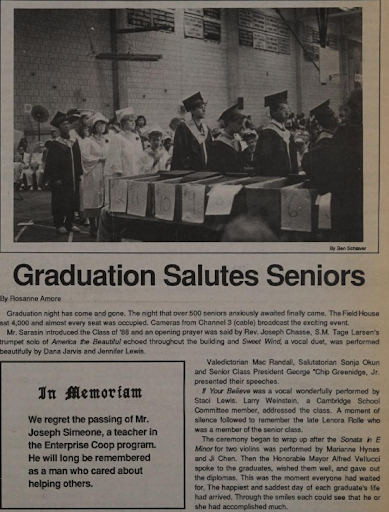 As the school year rapidly comes to an end, the Class of 2022 will have to say their final goodbyes. This year, the graduation ceremony began on Thursday, June 9th, at 5 PM. Seniors lined up at Russell Field to receive their diplomas, marking the end of their long four-year journey at Cambridge Rindge and Latin School. Around the same time over 34 years ago, on May 31st at the Field House, a similar sight unfolded.
The June 1988 edition of the Register Forum featured a story called "Graduation Salutes Seniors." Unlike this year's graduation, the 1988 ceremony saw its commencement in the Field House with almost four thousand in attendance. Also unlike this year, female students were dressed in white while their male counterparts dressed in black, and the introduction of the Class of '88 was quickly followed by "an opening prayer … by Rev. Joseph Chasse." Much of what followed, however, seems to differ very little from the ceremony of this year.
"
"I realized that the most amazing thing that could happen had already happened, but it had happened day by day over four years.""
After the introduction, "Valedictorian Mac Randall, Salutatorian Sonja Okun, and Senior Class President George 'Chip' Greenidge Jr. presented their speeches" along with a vocal performance of "If You Believe," a 1979 song written by Beatles member George Harrison. In his speech, Randall reflected on his last day of classes and shared the mentality behind the reluctance to leave which seemed common among the peers in his grade; "I realized that the most amazing thing that could happen had already happened, but it had happened day by day over four years so that we hadn't realized it was amazing at all."
Randall pointed out the diversity of CRLS, something that is still present in the student body to this day; "The 2,400 students at Cambridge Rindge and Latin represent over 65 nations. In the newspaper, it's just a number. But when you actually step into this amazing school … you become aware that every one of those 2,400 students is a different person—many from different lands and different cultures, speaking different languages."
The ceremony of 1988 closed with the mayor at the time, Alfred Vellucci, giving an address and presenting the diplomas to the graduates, something else that survives to this day.
The June edition also includes a list of students who were recognized during Awards Day, a separate event from the Graduation Ceremony that is no longer performed but one that still celebrates the accomplishments of students at CRLS. The awards listed ranged from academic topics like math to achievements in modern language. Notably, one of the awards given out in the drama section was a Special Achievement Award, with a recipient being Matt Damon '88, the future Hollywood star. 
Despite it being over 34 years ago, the graduation ceremony of 1988 is still kept alive with these past articles from the Register Forum. These articles also allow us to look back to this occasion of joy and see how the era differed from ours. But more importantly, it lets us see how it didn't.
This piece also appears in our June 2022 print edition.