Math Club Problem of the Month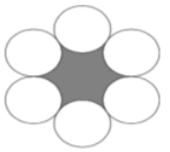 Six equal circles with radius three are arranged in a hexagon. What is the area of the shaded portion in the center?
Come to Math Club at 3 PM on Wednesday, June 8th, in Room 3607 to discuss this problem.
This problem also appeared in our May 2022 print edition.