Gluten Free Brownies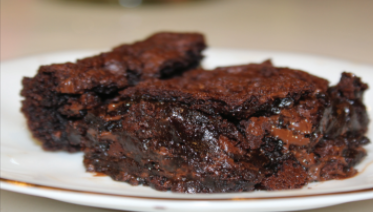 These brownies provide just the perfect amount of fudge and the chocolate chips add a delicious meltiness. You can't even tell that they are gluten-free!
Ingredients:
½ cup unsalted butter
¾  cup granulated sugar
½ cup brown sugar, packed
2 large eggs
2 tsp pure vanilla extract
½ cup cocoa powder
¾ cup all-purpose gluten-free flour (one-for-one)
½ tsp baking soda
½ tsp salt
2 cups chocolate chips
Instructions:
1. Preheat the oven to 350º F.
2. Spray an 8×8 square baking pan with gluten-free non-stick cooking spray.
3. In a large bowl, add melted butter, granulated sugar, and brown sugar and mix until fully combined.
4. Add in eggs one at a time and mix until fully combined, then add pure vanilla extract. Melt one cup of chocolate chips and mix it in.
5. In a medium-sized bowl combine gluten-free flour, cocoa powder, baking soda, and salt. Whisk together.
6. Slowly add the gluten-free flour mixture to the wet ingredients and mix until fully combined and smooth. Add in the other cup of chocolate chips.
7. Pour the brownie batter to the 8×8 baking pan.
8. Bake for 30-35 minutes, or until a toothpick inserted into the center comes out just barely clean. The sides of the brownies will start to pull away from the pan. Remember to watch your brownies closely, as all ovens are different.
9. Remove brownies and allow them to cool completely. Enjoy!
This piece also appears in our April 2022 print edition.