Athlete of the Month: Shlok Chitalia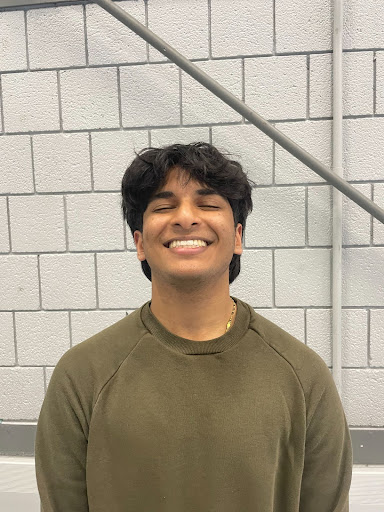 Shlok Chitalia is co-captain of the CRLS boys varsity volleyball team.
Register Forum (RF): Why did you join the team?
Shlok Chitalia (SC): I joined the team because, truthfully, I got cut from the basketball team, and I really wanted to play a sport [laughs]. Everything worked out in the end.
RF: As a senior, how do you think your athletics have grown over time?
SC: I feel like I've gained more IQ, and more confidence on the court. Playing with my team and a great coach has helped me through that. Now that I'm in a leadership role, I feel like everything has changed, from my athleticism to how I en- courage my teammates to do better. I know how to play the game more, I know these tips, I teach that to my other teammates.
RF: What do you love about CRLS volleyball?
SC: I like the community, how everybody is really accepting—and how everybody treats each other as family here. That's my favorite thing. And everybody's really open-minded, they want to learn and try new things.
RF: You've already won a few games. How are you feeling about the rest of the season?
SC: I'm feeling great, I'm feeling that if we stick to our foundation and analyze as a team more off the court, then I feel like we'll be good. When we are down in a set, by a big margin, it's really hard for us to come back—that's hard with every team. Our team morale, our energy goes down, but we're working through that.
RF: Are there any specific moments from playing volleyball that stick out to you?
SC: Summer of 2020, me, [David Gonzalo], and another alumnus—we didn't have a season that year, so we went to the sand courts every day at 6 AM, just playing volleyball for five hours, getting better, and it really did pay off. Also when we won our league last year. That was pretty amazing. It was at Winchester, so the crowd was packed, all Winchester kids, and when we won, our whole fan section just came onto the court and we all celebrated.
RF: A moment that didn't go so well?
SC: Freshman year, at Lincoln-Sudbury High School, there was this really tall guy—he was like 6' 6''—and I was in the front. He went up to hit, I went up to block, and then I got hit in the head! And there was this girl I really thought was pretty in the crowd and she saw it and I felt so embarrassed … and I couldn't even see her, because I had blurred vision … I was like, "Damn, my chance went away…" and then I got concussed … it was minor, in my opinion, but the doctors thought it was really serious. Yeah, I fell to the ground … He hit the ball really hard. And the girl went away. But it was really funny.
This piece also appears in our April 2022 print edition.