Dried Fruit Scones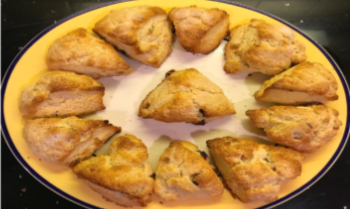 Scones can be dry, hard, and boring. These, however, are soft with pops of flavor, and can be used for any occasion.
Ingredients:
1⁄2 cup cream
1⁄4 cup milk
1⁄2 tsp lemon juice
2 cups all-purpose flour
1 tbsp baking powder
1 pinch of salt
6 tbsp butter
1⁄2 cup sugar
1⁄2 cup dried fruit (Currants, raisins, cranberries, prunes, figs, crystallized
ginger, whatever feels right to you. Feel free to mix two or three varieties
together.)
1 additional tbsp cream, half-and-half, or milk (you may have some left-
over anyway)
Instructions:
1. Set the oven to 425°F. Lightly butter a large baking sheet.
2. Mix the cream, milk, and lemon juice.
3. In a large bowl, stir together the flour, baking powder, and salt.
4. Cut the butter into several small pieces—a dozen or so. Mix them into the flour mixture with your fingers until it is slightly lumpy but has no giant butter pieces. Try to have no clumps larger than a kidney bean.
5. Stir in all but 2 teaspoons of the sugar, then add in the dried fruit.
6. Make a well in the center of the mixture and pour in 1⁄2 cups of cream. Stir until combined. Add cream as needed until you get a ball of dough that's soft but not sloppy. It should feel like very soft pastry dough, not bread dough. If it gets too sticky or sloppy, add a little more flour.
7. Divide the dough into two smaller balls. Put one ball on a kitchen counter or pastry board. (As long as the dough isn't too sticky you won't need to flour the counter.) Pat the ball into a circle, roughly 3/4" thick. (If you make it too thin, the scones will be burnt and dry). Cut the circle of dough pizza-style into six slices. Repeat with the other ball.
8. Spread the twelve pieces on the baking sheet. (If you put them relatively close together, the scones will come out nicely crisp on the outside and soft on the inside.) Lightly brush the surface of the pieces with the remaining tablespoon of cream, then sprinkle with the remaining 2 teaspoons of sugar.
9. Bake for 16-18 minutes or until golden.
10. Serve with butter and jam. These scones will last for three to four days if properly stored in Tupperware.
This piece also appears in our March 2022 print edition.