Celtics at Mid-season: A Team Full of Potential Continues to Underperform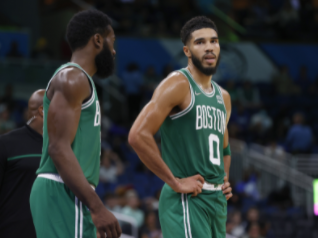 Evan Fay, Media Sports Editor
February 8, 2022
Following an underwhelming 2021, the Celtics' trend of mediocrity has carried over to the new year, as they trudge toward mid-season with a record still hovering around .500. On paper, the Celtics roster is a dominant force with All-Stars Jayson Tatum and Jaylon Brown leading the pack, complemented by excellent role players such as Marcus Smart and Dennis Shröder along with the intimidating big man duo of Al Horford and Robert Williams. The source of the Celtics' struggles does not come from a lack of talent, but rather from a lack of team chemistry, mental stamina, and an inability to close out games in the fourth quarter. The team has blown three double-digit, fourth-quarter leads, lost two double-overtime games, along with another blown fourth-quarter lead that ended with an electrifying Luka Doncic buzzer-beater three.
After a stunning 25 point comeback-loss to the New York Knicks on January 6, Celtics Coach Ime Udoka blasted the lineup, attributing "a lack of mental toughness" for the team's struggles. COVID-19 has been another factor hindering the Celtics' performance thus far, forcing Jaylon Brown to miss fourteen games and Jayson Tatum six. Amid the Celtics continuing struggles and subsequent trade rumors of the two stars, questions have been raised in the media about Tatum and Brown's chemistry on the court. Jaylon Brown responded to this criticism and opened up about his relationship with Tatum, saying "I disagree [with the criticism]. I think we can play together. We have played together well for the majority of our careers." Brown told ESPN. "The last year or so hasn't gone as expected, but the adversity will help us grow and get better." Both Tatum and Brown are having reputable seasons, but they will need to do more if they want to propel their team to a playoff spot in the Eastern Conference. Despite leading the Celtics in scoring and earning an All-Star spot, Tatum is posting his worst field goal and three-point percentages of his career, along with Brown who is tallying his worst shooting percentage since his rookie year.
Put aside the subtle underperformance of the Celtics main stars, there have been glimmers of greatness in other areas of the team. For example, Center Robert Williams continues to prove he is a difference-maker on both sides of the ball, averaging a double-double a game with 10 points and 10 rebounds.
Despite the rocky first half, the Celtics are riding a season-high five-game win streak through the first week of February as the All-Star break approaches. On paper, the Celtics have the talent and the offensive firepower to be a top team in the league, but this year they have habitually failed to remain hot for an extended portion of the season. Time will tell if the roster can reach their potential, catch a spark, and become contenders for Eastern Conference supremacy.