Remote Learning at CRLS: Are Kids Really Learning?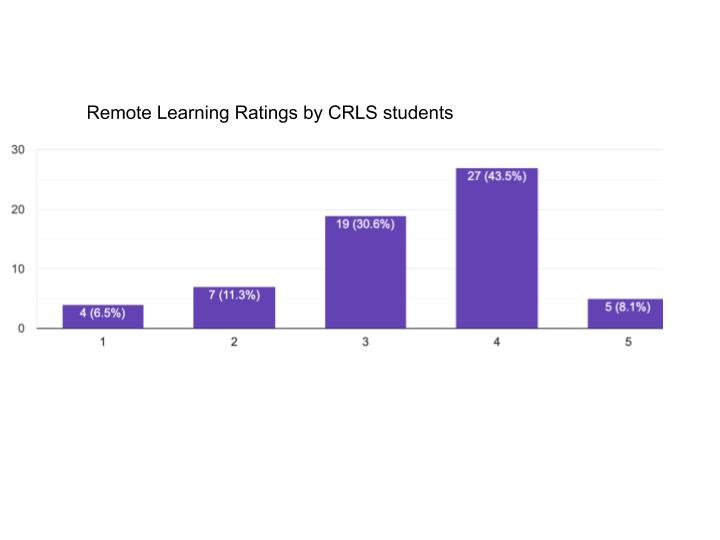 Cambridge Rindge and Latin has been entirely remote since March of last school year due to restrictions related to the coronavirus pandemic. The end of last school year was hectic to say the least, and this past summer was filled with uncertainty about what the upcoming school year might look like. In August, Superintendent Kenneth Salim decided that all Cambridge public schools would be learning remotely this next school year. About 50% of schools in the United States were remote to start the 2020-21 school year, so CRLS was not alone. However, this decision was met with some backlash from parents, believing that remote learning was not the best solution for CRLS for students.  Three months later, it is clear that both teachers and students have been struggling with remote learning to some degree, but it still is not clear exactly how much remote learning has negatively impacted the education of CRLS students. In order to find out how students have been feeling about remote learning, a survey was conducted asking them how they were feeling about the school year so far. The survey results helped solidify parents' concerns that remote learning was not beneficial toward the CRLS students. Over three quarters of CRLS students disliked remote learning, and a whopping 89% do not believe that it's a valid substitute for traditional in-person learning. 
Many students believe that remote learning has negatively impacted student's mental health.  However, despite the fact that most students have not been enjoying remote learning, over 60% of students think CRLS made the right decision, and CRLS was given an average of 4 out of 5 stars by the students for how well they've been handling it.
"
Just because the workload is easier doesn't mean I prefer it over regular school because socially and mentally I don't like learning, sleeping, and staying in the same area all day."
Senior Eli Chamblee agreed with this rating: "I think CRLS is doing a good job making sure I have what I need to be successful during virtual learning," Chamblee explained. 
Despite most of the questions on the survey being pretty black and white, it is clear that the vast majority of CRLS students have mixed feelings on remote learning. Senior Eyosias Kebede commented, "I feel like remote learning was hard to adjust to, but after figuring it out, it made the school workload a lot easier. But just because the workload is easier doesn't mean I prefer it over regular school because socially and mentally I don't like learning, sleeping, and staying in the same area all day." 
Lack of motivation in classes has also been a huge problem for CRLS students this semester. Senior Ioan Pereira stated, "I don't feel the same push to do my work that I would if I was in the high school building, and talking with my teachers feels awkward." 
The dissatisfaction with remote learning has not just been among the students; it has been among the teachers as well. CRLS psychologist Devan Hannigan agrees with the students that remote learning is very stressful, and not as valuable as in-person schooling. When asked whether or not she thinks remote learning is good for CRLS students, Ms. Hannigan responded,  "As a whole, no. I think it's really hard to make such an adjustment, especially when you're not expecting it. I think students were a little bit more prepared this September, but it's still something that takes a lot of getting used to." She concludes, "It's really hard when you can't interact in-person with teachers, and friends, and you forget about all those daily interactions that make a difference, when you're learning, and when you're in school."
The remote experience has been very hard on everyone. The students have struggled with not seeing friends, the parents have struggled with having to act as teachers, and the teachers have struggled adjusting to the new technology. It is not yet known when CRLS will return to in-person learning, but it is clear that the students are more likely to succeed in the classroom. Until then, CRLS students must try to make the best of an unfortunate situation.