Chocolate Lava Cake Recipe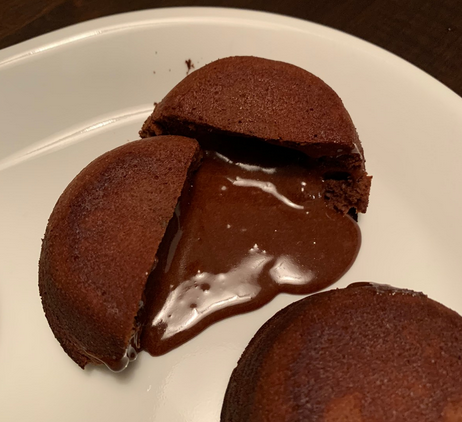 Ella Henry, Food & Culture Editor
December 22, 2020
There are two main methods for making chocolate lava cake. The first is by inserting a cylinder of ganache in the middle of the cake batter so that when it is placed in the oven, the batter cooks while the ganache melts. The second is made by creating a thin cake batter and only cooking the cake until the edges have firmed, leaving some of the batter in the middle as lava. The recipe below is the latter.
Ingredients
½ cup butter
4 oz chocolate (I recommend mixing bittersweet and semisweet)
1 ¼ cups powdered sugar
2 whole eggs
3 egg yolks
1 tsp vanilla extract
Pinch of salt
½ flour
Directions
Preheat the oven to 425°F and butter four ramekins. Over a double boiler (bain-marie), melt the chocolate and butter together. Whisk in the sugar until well combined, then mix in the eggs, vanilla extract, and salt. Being careful not to overmix, and whisk in the flour. Dust powdered sugar over the cakes and serve with red fruits.