2020 Election Culminates in a Biden-Harris Victory and Divided Congress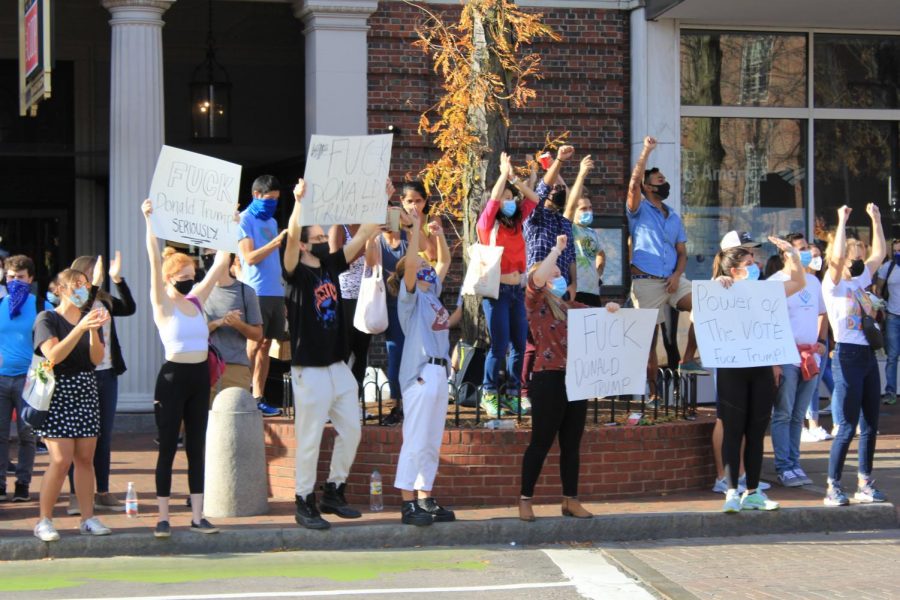 Across political lines, the 2020 election was considered historic. In the shadow of a raging pandemic, it pitted former Vice President Joe R. Biden against President Donald J. Trump. In addition to deciding control of the White House, this election also determined which party would have power in Congress. For the first time in American history, a Black, Asian woman is the Vice President elect. Despite a raging pandemic, this year the United States experienced the highest voter turnout in history in what is widely considered one of the most fraught presidential elections in US history.
The two candidates had starkly contrasting campaigns. Biden ran as a moderate Democrat. His message was one of unity and cooperation, and a  pledge to listen to science and rid the US of COVID-19 as efficiently as possible. Biden boasts a strong record in the Senate and as vice president, having notably worked to restore the economy after the 2008 economic crisis. President Trump continues to run on the slogan of "Make America Great Again." He claims that over the course of his presidency, the US has experienced strong economic growth and lower taxes. He boasts the appointment of three conservative justices to the Supreme Court, construction of his signature border wall, and what he considers to be an "perfect" COVID-19 response.
"
Despite a raging pandemic, this year the United States experienced the highest voter turnout in history in what is widely considered one of the most fraught presidential elections in US history."
Democrats insist that Trump's economy was largely inherited from former President Barack Obama and that very little border wall has actually been constructed. Scientists across political lines decry his COVID-19 response citing, among other things, his failure to use the full power of the federal government to combat the virus; they say that his continuous disregard of mask recommendations has only compounded the problem. Liberals worry about his increasingly authoritarian tendencies and the chaos he has brought to the White House. 
Republicans fear that Biden will enforce a national lockdown, support stricter gun and climate laws, abortion rights, and pave the way towards Medicare for All. Many conservative politicians claim that climate change either isn't real or is not a pressing issue, that gun control —whether necessary or not—is a violation of personal liberty, and that abortion is unethical. They worry that increases in taxes and government-sponsored programs will push the United States towards socialism, while reducing the standard of living for everyone.
Both parties had high hopes for 2020. Republicans did well in the 2018 midterms, retaining control of the Senate despite losses in the House. Their results were described as a vindication of Trump's conduct, specifically with regards to the Supreme Court. They projected a Trump re-election, as well as a regain of control in the House. Democrats also emerged from the 2018 midterms in a strong position. They saw rising COVID-19 cases as a demonstration of Trump's ineffectiveness as a leader, raising hopes for the 2020 presidential and congressional elections. As the election drew nearer, both left- and right-leaning sources predicted a victory for their party, expecting overwhelming wins in Congress and the presidency. 
Both parties' predictions fell flat. In the House, Republicans have gained at least eight seats, but are still a minority. Senate control will be decided by runoff elections in Georgia, and neither party will have a significant majority. Neither candidate won by the landslide expected by their supporters, leading to claims by President Trump that the election was "rigged." Even the litigation promised by the Republican party—intended to "stop the steal"—has so far had very little effect. Many Democrats claim Biden shows that center-left candidates are more likely to win than farther left candidates like Bernie Sanders or Alexandria Ocasio-Cortez. However, every single Democrat who supported Medicare for All won their re-election, and many new representatives also support such a plan.
For liberals, moderates, and even some conservatives, this election's outcome was positive. At CRLS, students and teachers are largely happy with Biden's victory. CRLS Junior Ciaran McNealy, a moderately fiscal conservative, said that he is happy with election results for environmental reasons. Biden's win was seen as a repudiation of Trumpism and a victory for progressives. Moderates are reassured by the lack of a landslide in favour of either candidate. Many conservatives, such as those responsible for the Lincoln Project, are relieved that Trump will have to leave office. Regardless of Biden's victory, however, none of this is over. As Benji Cohen, a history teacher at CRLS said, "Trump lost, but Trumpism won": even in the face of overwhelming evidence, a majority of Trump supporters continues to deny the truth. As president, Joe Biden will need to unite both parties if he wants to accomplish anything during his term.