Amidst Pandemic Fear, Drive-Ins Make An Unexpected Return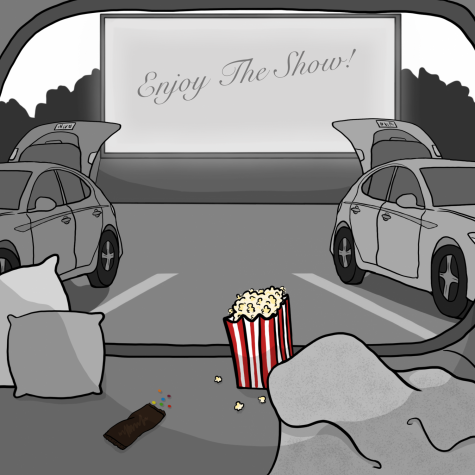 Drive-in movie theaters are generally associated with the mid-20th century, a time before the invention of cable TV, color television, VCRs, and video rental. But, are these "archaic" movie theaters still a memory of the past, or is their reappearance a reflection of our future, bringing people together while keeping a safe distance?
A drive-in theater is a type of cinema structure held in a large outdoor space with a huge movie screen and a projection booth. At these theaters, customers can view movies from the comfort and privacy of their own cars. These landmarks of 1950s and 1960s entertainment are very cheap and easy to erect. Screens ranged from steel truss structures with complex finishes to simple walls painted in white. Soundtracks were broadcasted on an FM wave, easily picked up by a car's radio. Thanks to their simplicity, at their peak in the United States, nearly 4,000 drive-ins were functioning daily. The vast majority of these were abandoned or sold following revolutionizing inventions in the 1970s—such as video rental—in the movie industry. Currently, there are only 300 operational drive-ins in the US. 
The current pandemic has eliminated practically all gatherings of people. Strict laws and measures have created the perfect opportunity for drive-ins to re-introduce themselves into popular culture. Drive-ins are a perfect way to effectively social distance; since the viewing of a movie is done from one's own vehicle, it eliminates any interactions or dangerous proximity to others.
"
In order to maintain social distancing, the drive-in arrangement has become popular"
Nevertheless, as countries around the world open up their restaurants, retail shops, and other businesses, drive-ins are emerging as well. In order to maintain social distancing, the drive-in arrangement has become popular for many types of gatherings. Across Europe, pastors are holding services in drive-in churches, and drive-in concerts and plays are beginning to draw crowds, turning this medium into a means of hosting events while easily keeping audience members apart. In an era of social distancing, there are few better ways to keep people apart than car doors.
One unique use of drive-ins is for sports spectators. A Danish football club have found a solution to involve their fans as the football league resumes: drive-in football. The FC Midtjylland leadership team announced plans last Friday allowing about 2,000 cars to park around their stadium and watch matches live from two big screens. "The empty stands should not separate us when the football league and our pursuit for the title resume," the club said in a statement. "We have a stated goal of creating the best stadium experience and coronavirus doesn't change that, it just provides some other preconditions."
Despite the setbacks and conflicts that our global community is facing, there are positives in each community. Here, an obsolete technology has returned, and is used to bring people together in a safe way. The speed and creativity with which we adapt to these situations are what make us human, and what gives me hope is that no matter the challenge, humanity will find a way to overcome it.