CRLS Competes in Constitutional Law Moot Court Competition at Suffolk Law School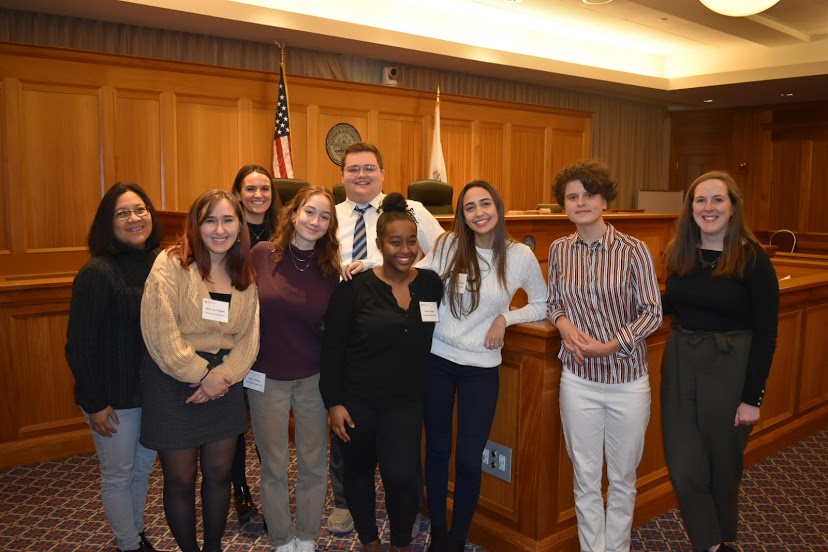 On February 8th this year, six students in Ms. Jacqueline Cesario's Constitutional Law class competed in the annual Moot Court Competition held at Suffolk Law School in Boston. In preparation for the competition, Ms. Cesario's students spent months refining their arguing skills and learning the ins and outs of arguing as the petitioner or respondent in a lawful setting. The class specialized in the First Amendment, which protects freedom of speech, and the Fifth Amendment, which grants an individual the right to "plead the Fifth" and protect themselves from incrimination by refusing to answer a question. Along with learning and analyzing the language composing these amendments, the students were also introduced to case law involving the First and Fifth amendments and identified how they have influenced real-life scenarios. The students were then presented with fictional incidents and asked to argue to the court as either a petitioner or a respondent. 
By the end of the semester, six students were chosen to represent CRLS at Suffolk Law School's Moot Court. Each one of them was assigned a position for the competition case. The case involved a 16-year-old boy, Joel, who was attending Metro City High School (MCHS). Joel was suspended from MCHS and charged with a misdemeanor for allegedly bullying a fellow student. Joel took MCHS to court, arguing that his First and Fifth Amendment rights were violated when he was suspended for his online speech and in custodial interrogation when his Miranda rights were not read to him before questioning. Appealing to the Supreme Court, petitioners advocated for Joel while respondents defended the actions of MCHS. 
"
I felt sick up until the point I was on the stand, but once the timer went off, my emotions went away and my brain was on autopilot."
— Angelica Ciannella '21
With plenty of time to prepare and rehearse, the team woke up at 6:00 AM and headed down to Suffolk Law School, dressed up in proper court attire, adrenaline coursing. One at a time, with written outlines of their arguments, they stood at a podium facing a panel of four judges. The second round was what the CRLS team called a "hot bench," in which judges fire off questions with no time to answer the previous; you either knew your case or you melted in the heat. Student Angelica Ciannella '21 remembers the most stressful part of the competition: "Waiting until it was my turn to present my case was definitely the worst part—it was nerve-wracking. I felt sick up until the point I was on the stand, but once the timer went off, my emotions went away and my brain was on autopilot." 
At some point during each round, each competitor on the Con Law team abandoned their outlines. There was no time to look down at notes; if they wanted to stay calm and composed, they needed consistent eye contact and clever responses that rolled off the tongue. Participants had to embody their role and bulldoze through every counter argument the judges tried to stump them with. Finalist Simon Simpson '20 recalls his performance: "I did really poorly on one of the rounds and I was worried I wouldn't make it. I did not in my wildest dreams think I would qualify for nationals, so I think it just goes to show that you should never give up even after hitting a couple bumps." 
Halfway through the ten-hour competition, the team of judges, prosecutors, and lawyers evaluating each student chose twelve contestants for the final round. Four of the six students from CRLS had made the cut. In the next round, the four finalists argued their cases to a new set of judges to determine which eight would move on to nationals in Philadelphia. Talented and persistent advocates from CRLS Ollie Shirley '20 and Simon Simpson '20 held their ground once again, and they were chosen to compete in the next round on March 28th with finalists from all over the US. Both Simpson and Shirley were well prepared for the upcoming competition in Philadelphia, but nationals have been canceled due to the coronavirus outbreak.