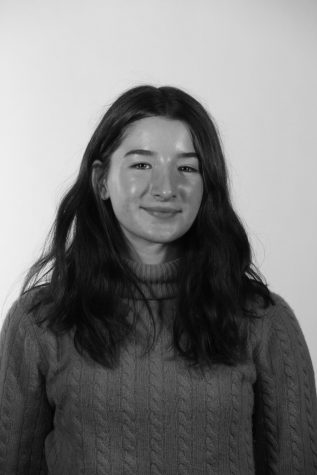 What elementary school did you go to?
Amigos
What other activities are you involved in at CRLS and/or in the community?
Food Justice Club, Project 10 East, MDC
If you could interview anyone, dead or alive, who would it be and WHY?
Eliezer Ben-Yehuda, because I think someone who was a major driving force of the revival of an ancient language would have very interesting things to say. Though I might have to learn Hebrew first.
Miriam Alvarez-Rosenbloom, Layout Designer
Jun 04, 2019

Chocolate and Seed Cookies

(Story)

Mar 29, 2019

Simple Scones, Two Ways (Plus Toppings!)

(Story)

Mar 02, 2019

Packed Lunches that Aren't Boring

(Story)

Feb 03, 2019

A New York Bagel—from Scratch

(Story/Media)

Dec 21, 2018

Vegetables For This Winter

(Story)

Dec 20, 2018

Behind the Scenes: A Look into the CRLS Cafeteria

(Story)

Nov 29, 2018

Chocolate and Child Slavery

(Story/Media)

Oct 30, 2018

Pear Ginger Cake

(Story/Media)

Oct 22, 2018

Early Fall Produce Guide

(Story)

Sep 28, 2018

Peach Custard Cake

(Story)

Sep 28, 2018

Roasted Delicata Squash

(Story/Media)

Sep 28, 2018

Roasted Mini Pumpkins

(Story/Media)

Sep 28, 2018

New Chromebook Policy

(Story)

Sep 28, 2018

A Spotlight on New Classes at CRLS

(Story)

Sep 28, 2018

CRLS Students Travel the World

(Story)

Jun 22, 2018

World Record Day: Brought to You by CRLS' Black Student Union

(Media)

Jun 19, 2018

Being a Parent and a Teacher in Cambridge: A Look at the CPS Family Leave Policy

(Media)

May 30, 2018

Massachusetts House Moves Forward on ERPO Bill

(Story)

May 30, 2018

CRLS Opens Conversations about Mental Health

(Story)

May 30, 2018
May 30, 2018

Parsnips with Hazelnuts

(Story)

May 30, 2018

(Actually) Crispy Pan Fried Tofu with Honey-Soy Glaze and Broccoli

(Story)

May 30, 2018

Farmers' Market Guide

(Story)

May 30, 2018

Developing: Spoon Game Exposé

(Media)

May 24, 2018

Santa Fe, Texas, School Shooting Prompts CRLS Walkout

(Story)

May 02, 2018

School Committee Continues AV Discussion with April Meetings

(Story)

Apr 25, 2018

CRLS Students Gain New Experiences Through Travel

(Story)

Apr 25, 2018

Avoid Factory Farms; Shop at Farmers' Markets

(Media)

Apr 22, 2018

Is CRLS' Sports GPA Policy Helping?

(Media)

Mar 17, 2018

Students and Staff Continue Gun Control Discourse

(Story)

Mar 07, 2018

CRLS Students Lead School's First Response to Recent Florida School Shooting

(Story)