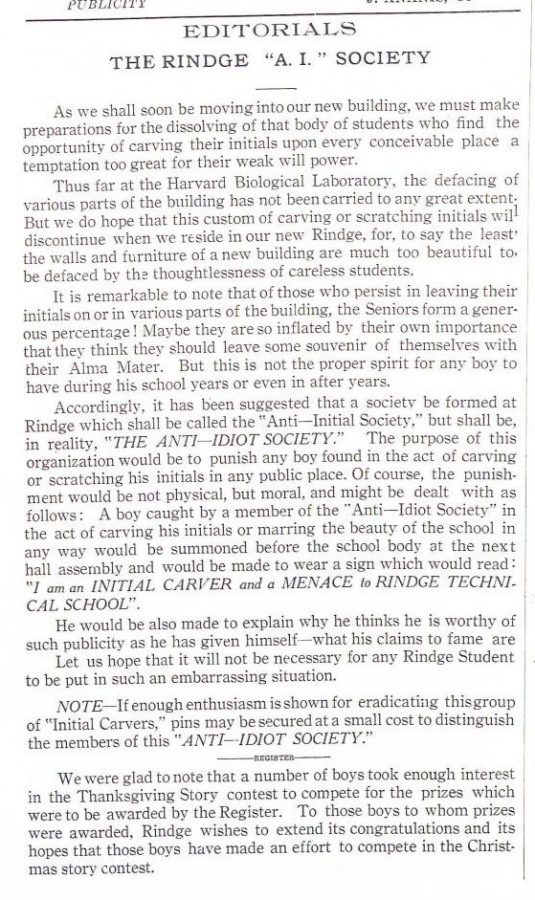 Cambridge Room
As the season of making, revamping and joining new clubs is beginning, today's CRLS students have a plethora of options to choose from. But do we have an "A.I." club? The all-boys, Rindge Technical School, a predecessor high school of CRLS, of 1934 did, and no it wasn't a before-its-time artificial intelligence club, but rather an "Anti-Initial Society."
This student-run group began as the "Anti-Initial Society" until students decided they needed to be more severe, adopting the name "Anti-Idiot Society." As suggested by the name, the club dedicated itself to identifying and humiliating those students who carved their initials into tables, defacing public property. When the students caught someone, they would punish the perpetrator by requiring them to wear a sign around his neck that read, " I am an INITIAL CARVER and a MENACE to RINDGE TECHNICAL SCHOOL." The carver would then be expected to explain himself and his rationale behind trying to make his initials seen. Whether this club ever acted on its threats of public humiliation, or its opinion piece in the Rindge Register was enough to scare potential initial carvers out of vandalism is unclear, but it is evident that there was zero tolerance of vandalism practices by at least a number of Rindge Tech students. 
Today, nearly 100 years later, CRLS community members can hardly imagine that this club existed. Math teacher Casey Leonard reacted to the club's description saying, "That's crazy." She pointed out that if the club were to exist today, it would be wise to focus on gum under desks as well as initial carving. She asserted, however, that in reality she definitely does not condone the club's methods of public humiliation. Now if you're late to joining a club, or, by some chance, none of the many clubs at club day shouted your name, look no further. It may just be the right time to re-establish the "Anti-Idiot Society" and put those "menacing" initial scratchers in their place, or an "Anti-Anti-Idiot Club" if you are like junior Roni Kirson, who finds this old club's practices unnecessarily humiliating. "That's so mean," Kirson told the Register Forum. "It's just public shaming. Yes, vandalism is dumb, but don't bully."
If the authors of this club's opinion piece were to see CRLS now, what would they think? Would the scratchproof desks impress them? Or would the bathroom walls disgust them? Would we seem to have taken a step in the direction of care for our surroundings? Or would they suggest an emergency re-formation of the "Anti-Idiot Society" to put current students in their place?  We will never know. 
This piece also appears in our September 2019 print edition.