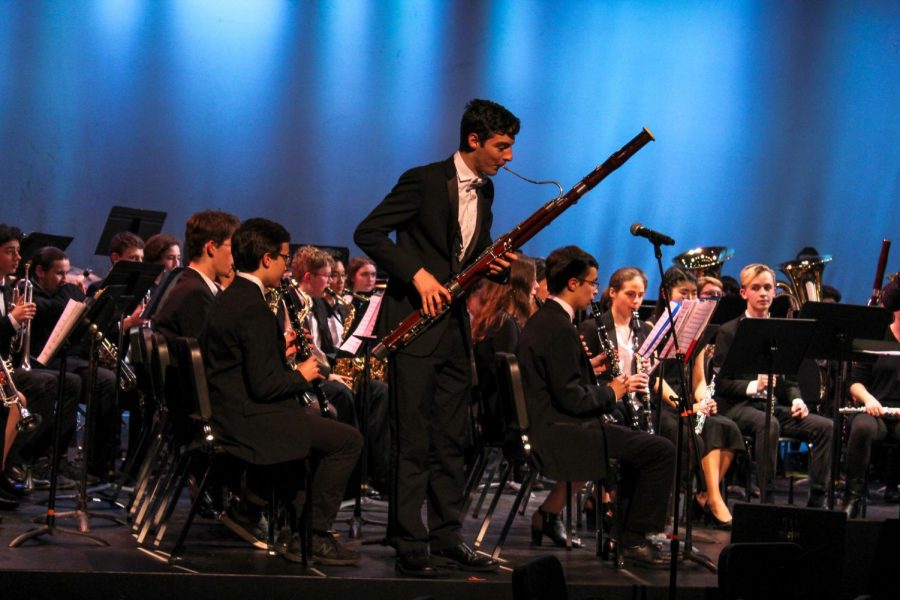 Willa Rudel
On Friday, May 17th, the CRLS music department coalesced to create a final production of the year—the Spring Concert. The show started with the Drumline/Percussion Ensemble, directed by Mr. Guillermo Nojechowicz, followed by Dr. Ivan Stefanov's vocal ensemble. The Orchestra, directed by Ms. Laura Umbro, played next, and last but not least, the Concert Band performed, directed by Mr. Nathan Powers.
The Drumline performed two student-composed pieces, "Analog Bongo" by Luka Berman and "Sola" by Andrew Keating. The vocal groups performed a Latin hymn, "Dies Irae," written by Ryan Main. And the Band and Orchestra made history—the two ensembles performed a piece together for the first time, playing a medley of Harry Potter theme songs from all eight movies. When the two ensembles combined, there were more than one hundred musicians on stage.
Families, students, and staff sat in the auditorium and enjoyed the concert that showcased the music department's hard work over the spring semester. Mr. Powers, the conductor of the Concert Band, told the Register Forum about teaching his students, saying, "I teach music to bring students along a ride of discovery, understanding, and enjoyment of self-expression, [and] I enjoy seeing the progression of student discovery over their four years here at CRLS the most." Freshman Felix Prasanna commented on his experience being in Concert Band: "Band is a great elective because you can make tons of friends along with learning musical skills." The many students involved in music at CRLS are part of an ever-growing community. The Visual and Performing Arts (VPA) department used to be made up of only a few people but is now a flourishing and instrumental part of CRLS.
Ms. Umbro, the conductor of the Orchestra, reflected on her experience with music at CRLS and the hard work that goes into it. "To me, music has so many different sides to it. … The act of learning an instrument and learning how to really dive into music is such an important piece of [learning how to play music]," she said. "People often hear musicians play and it sounds so easy, and they think that it doesn't take a whole lot of effort because if music is done well, it should sound effortless. But in fact, there is so much that goes into making that music happen, and making it happen well."