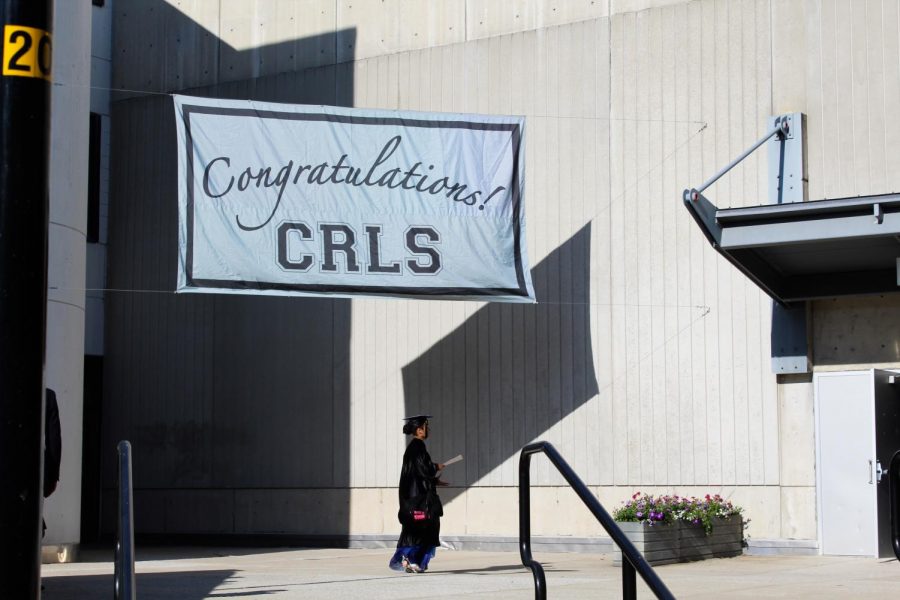 Willa Rudel
On Thursday, June 6th, at 6 PM, the Class of 2019 graduated from the Cambridge Ridge and Latin School. To begin the ceremony, families were welcomed in 15 of the 22 languages that the class of 2019 speaks. After this multilingual greeting, the graduating seniors proceeded into the field house as the audience rose to their feet, watching their beloved friends and relatives walk down the aisle toward the front of the gymnasium. Musically, the CRLS Concert Band and Orchestra matched the mood of the ceremony with the song "Pomp and Circumstance" by Edward Elgar. Afterward, soloist Hannah Carney '19 sang the national anthem as the audience and graduates stood in front of their seats. Salutatorian Jonas Hansen '19, Principal Damon Smith, Superintendent Kenneth Salim, and Mayor Marc McGovern '87 went on to address the audience. These speeches all emphasized the impact of the students' support systems, both at school and at home, in helping them reach this important milestone in their lives.
Almost every senior was smiling broadly throughout the ceremony; graduate was one of those responsible for bringing this joy to the event. She told the Register Forum, "I'm ready to be out of here, but I'm going to miss the class of '19. I liked the high school experience, and I'm going to miss everybody that did it with me." She noted a reflection on her time at CRLS that she'll take with her as she moves on to college next year: "I've been saying this since elementary school, but I need to stop procrastinating. Senioritis kicked in, like, sophomore year honestly. As an undergrad, I'm going to try not to procrastinate as much. That's my goal." Another graduating senior, Mary Jane Misiti, told the Register Forum, "I'm ready to graduate, but I'm not at the same time." She pointed out, "Everyone [in the Class of 2019] is so open-minded and supportive, and I think I'll remember that in the future."
Also during the ceremony, Principal Smith presented faculty distinction awards to history teacher Dr. Eva Lam, history teacher Mr. Duncan McLaury, art teacher Ms. Melissa Chaney, and Arabic teacher Mr. Ibrahim Dagher. The awards, given annually to teachers selected by the senior class, are sponsored by Friends of CRLS.
A CRLS ensemble group then performed George Michael's "Freedom '90." These talented students sang and played the trumpet, bass guitar, and drums, among other instruments. This performance was followed by speeches by Grace Austin, student body president, and Sun-Jung Yum, valedictorian. Austin urged Cambridge students to take the activism that they had displayed at Rindge and carry it with them into the future: "Luckily for us, in each new environment we inhabit, we can travel with the skills, energy, and critical thinking that makes kids from Cambridge special," she said. Yum, on the other hand, wanted students to remember their high school experience more globally: "When I was asked what I liked most about CRLS, I thought long and hard, eventually coming to the conclusion that what I liked most is the fact that I didn't like every part of it." She elaborated, "I invited you all to relish the fact that our time at CRLS wasn't 100% perfect—because it shouldn't have been … [the good and the bad] is ultimately what makes us who we are."
Toward the end of the ceremony, Maeve Reilly '19, senior class president, gave an impactful speech about the high school experience and graduation from her perspective. "In the past four years, we've been through a lot, grappling with questions about our place in this world. … It's easy to take for granted that we have received this education and that we are young with so much time ahead of us," she said. "It's not easy to say goodbye, but I do so knowing that there are places we need to be; where we will change lives, save lives, lead lives, and give life. It's a big world, but I sincerely hope we cross paths again."