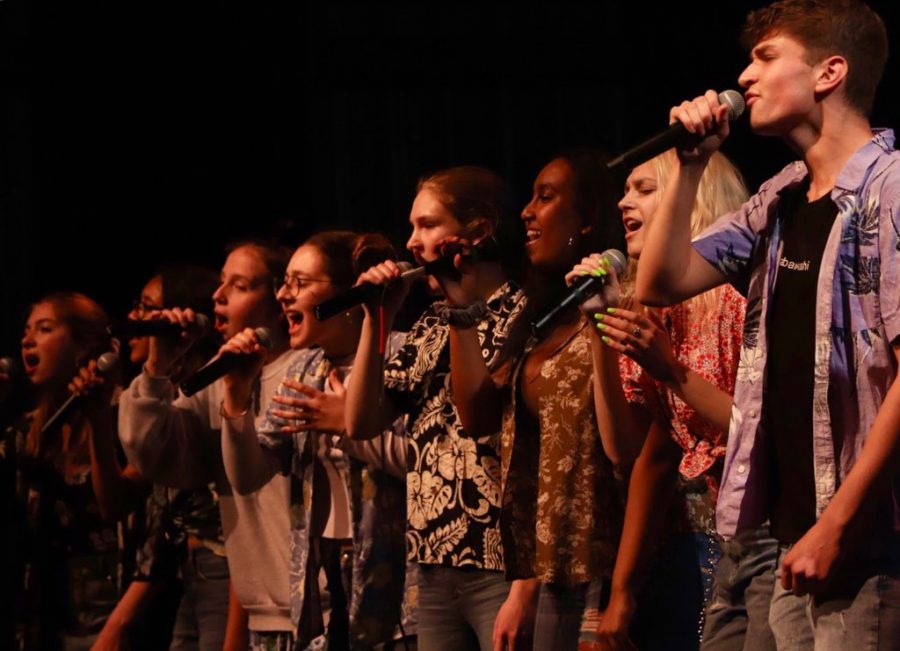 Lucy Messineo-Witt
On Friday, April 26th, the Fitzgerald Theatre was filled with harmonizing voices, dancing, and cheering students—but no instruments. The bi-annual A Cappella Jam showcased the talents of five different student groups: Sassafras, Girls Next Door, Pitches and Dos, Tonal Eclipse, and The Transpositions, as well as a special performance from the professional group Fermata Town.
Unlike in past years, the money raised from ticket sales will be donated to the Hole in the Wall Gang Camp, a summer camp for children who have or have had life-threatening illnesses. Girls Next Door leader Anya Harp '19 nominated this organization to receive the donation. "It's the most special place on earth; it matters so much to me," Harp reflected. "I was diagnosed with acute lymphoblastic leukemia just before the start of seventh grade. Despite having friends visit me in the hospital, I always felt very alone. It wasn't until the summer of 2014 that I finally started feeling normal." Harp says that the camp was essential to her recovery, as she felt incredibly welcome and joyful there. Donations are essential to this camp's operations, as it does not charge its campers.
The show kicked off with Pitches and Dos rendition of Dolly Parton's "9 to 5," soloed by leader Vera Targoff '19. "It was so much fun to go out with such a bang," she said. "My group worked so hard in the weeks leading up to the jam, and it really showed. I'm so proud of them for putting in the effort and having everything come together." Co-leader Harry Greenblatt '19 sang "Movement" by Hozier as his senior solo. "We like to do one throwback song, one modern song, and one ballad. We get song suggestions from everyone in the group and then we all decide together on what we want to do," Greenblatt explained.
Next, Girls Next Door delivered a rendition of "No Air" by Jordin Sparks, sung by Harp. Honor O'Shaughnessy '19, the other leader of the group, sang "Where You Lead" by Carole King.
The Transpositions' Jasper Duval '19 drove home a powerful solo performance, accompanied by Hanna Carney '19, leader of Sassafras and student coordinator for the entire CRLS a cappella program. Carney also arranged and choreographed several of her group's numbers.
The student portion of the show closed with Sassafras, which performed a creatively choreographed number: "Bottom of the River" by Delta Rae. This song was followed by a mashup reminiscent of many seniors' middle school days, a mix of "Drag Me Down" by One Direction and "I Knew You Were Trouble" by Taylor Swift. Sassafras's other leader,  Megumi Kirby '19, who soloed the latter song, explained, "For me as a senior, this show [was] special because [it was] my last one."
Kirby also described the grand finale, when members of all groups united on stage to sing "Unwritten" by Natasha Bedingfield: "We brought back the program-wide song, which is a really fun way for all the groups to come together." This finish celebrated the work of all the groups throughout the school year and was a farewell to all the senior leaders who have worked hard to make Cambridge Rindge and Latin a cappella successful.
This piece also appears in our May 2019 print edition.