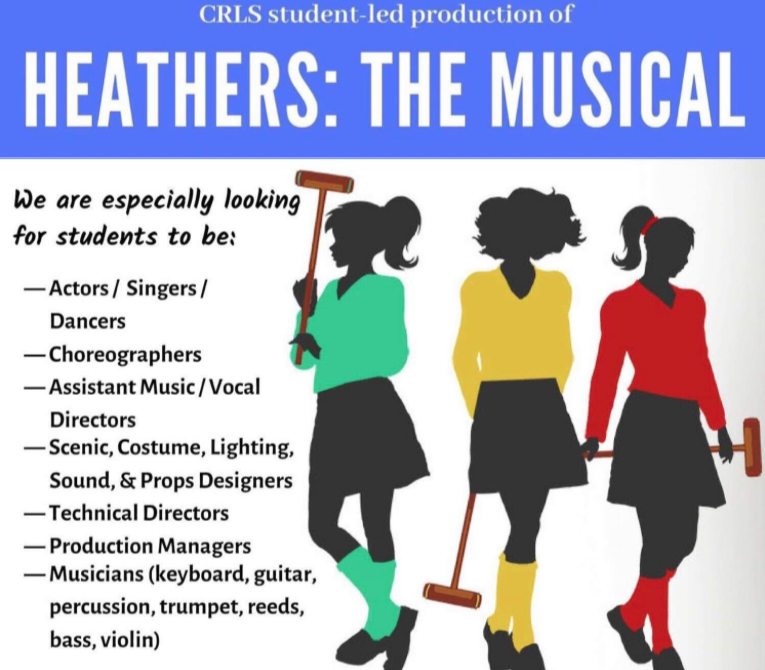 Graphic Courtesy of: Mica León Perdomo
"Unlike a lot of musicals we've seen at Rindge, this show is very 'girl power' and female-driven. It's refreshing to have an empowering show with both a good score and plot that accurately portrays the ups and downs of high school," comments senior Micaela "Mica" León Perdomo, one of the co-producers of Heathers. The upcoming musical, which is entirely student-run, is set to have performances at Cambridge's Graham and Parks School on May 31st and June 1st at 7:00 PM as well as June 2nd at 2:00 PM.
While the fall musical, Honk, was a great success, few CRLS seniors were involved in the production. León Perdomo, who is co-producing the musical along with seniors Eva Beram and Clara Barry, also plays the part of Heather McNamara, one of the three mean girls named "Heather" in the story. She explains, "This year's seniors of the drama department really wanted to go out with a bang: a self-produced show featuring the vast talent of our upperclassmen."
There are many challenges in creating a student-run show. León Perdomo explains, "Finding the proper funds and rehearsal venues has been a bit challenging, but it's all about networking and not being afraid to reach out." Senior Jemma Kepner agrees: "It's definitely hard to assemble everyone, and the big thing is just getting the money that we need for this. We need about $5,000." Through a website called FundRazr, the cast has already compiled around $1,600, and future fundraising endeavors may include a movie event and bake sale. The Heathers cast and crew also have assistance from outside of the CRLS community; co-producing Heathers along with the three seniors is Kathryn Rosenberg, a former producer for the American Repertory Theater. Kepner comments, "[Rosenberg] deserves so much of the credit for this, and she's helped us deal with budgeting, fundraising, organizing all the people we need. … She's been absolutely fantastic."
The cast and crew are determined to produce a work they are proud of: "If you really want to make something happen and are willing to work hard for it, it'll come," says León Perdomo. Despite the challenges that the Heathers cast encounters along the way, the experience of putting on a student-run production is unique. "I'm excited to be able to take on a project and having it be student-run gives us a sense of independence and a good foundation for future projects of the sort," says co-producer, cast member, and dance captain Eva Beram. Kepner agrees: "We get a lot of freedom in terms of making this our own show and the fact that this really does get to be a great culmination of the 2019 seniors' work here at CRLS."
The show itself is set at a high school and features primarily female leads. Sophomore Stella Jarvis, who plays the lead, describes her role, saying, "Veronica is dark, sarcastic, and misunderstood, so she doesn't really have friends at the beginning except for Martha." Martha, who is played by sophomore Phia Teller, is the sweet and innocent underdog in the musical. "My part gets bullied all the time," Teller explains, "but then she has a character-leap at the end when she sings this whole song." Eventually, using her knack for forging signatures, Veronica blackmails three girls all named "Heather" into letting her join their clique. Throughout the musical, Veronica encounters Jason Dean, or J.D., and together they get wrapped up in trouble that continues throughout the show. The vibe of Heathers feels relatable to many cast members such as Kepner: "It's definitely very loud, fun, and bright, which I think really represents the CRLS theater department well." León Perdomo continues, "Heathers is just an amazing and fun show that I think everyone can enjoy." Teller agrees, adding that the music in the show is great as well.
Rehearsals are anticipated to begin at the end of March. Jarvis explains, "We haven't started the rehearsal process yet. Right now, we're just trying to work out everybody's schedules; especially since there are so many seniors in it, everyone's really busy." Participants in the upcoming production are especially excited to meld their talents into a wonderful production. Teller and Jarvis both agree that the Heathers cast is a fantastic community to be part of. León Perdomo adds, "I'm super excited about everything, but mostly about working with so many talented student artists that I've never gotten the chance to perform with before. I can't wait to see how we make it all come together onstage."
This piece also appears in our March 2019 print edition.