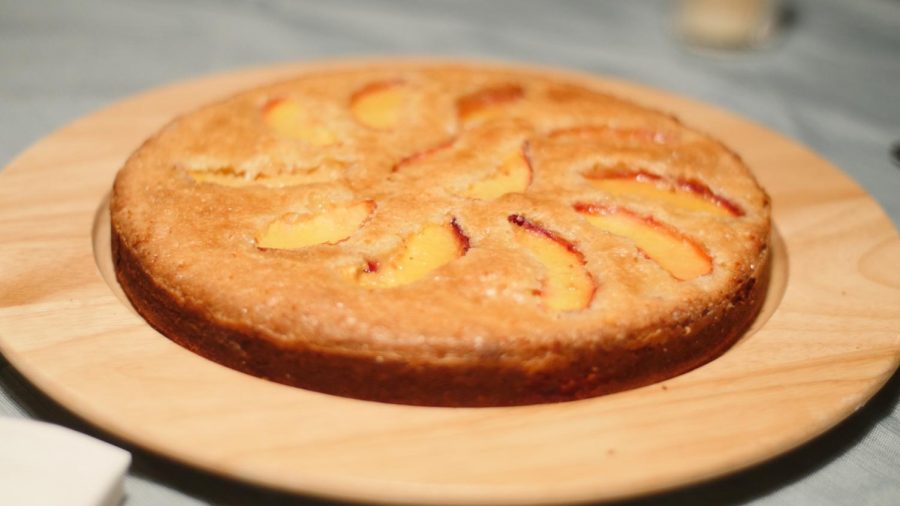 Vivek Bald
This is a recipe adapted from Bon Appetit Magazine, and in the past months, it has become one of my favorite things to eat and make. It is the perfect texture—rich and custardy yet not too heavy—and just sweet enough. Do not use an electric mixer, and make sure to really mix the eggs and sugar for a minute, or else the fruit will sink into the batter. If you don't have a springform pan, any cake or loaf pan will work.
Serves 8
1 cup all-purpose flour
3⁄4 tsp baking powder
1⁄2 tsp kosher salt
2 eggs plus 1 extra yolk
1-1 1⁄4 cups sugar
1⁄4 cup greek yogurt or sour cream
4 tbsp unsalted butter, melted and cooled
2 tsp vanilla extract
2 tsp lemon zest
4-5 ripe peaches, or approximately 5 other whole
fruits
Optional: coarse sugar (like Sugar in the Raw)
Preheat oven to 350º F. Butter and flour a 9-inch springform pan.
In a medium bowl, whisk together flour, baking powder, and salt. In another medium bowl, whisk eggs, yolks, and sugar by hand for 1 minute, until mixture is light and thick.
In a small bowl, mix yogurt or sour cream, butter, vanilla, and lemon zest. It may look chunky if the yogurt is very cold—this is OK. Whisk mixture into egg mixture, then add dry ingredients, and fold until smooth. Use a rubber spatula to pour and smooth into pan, and refrigerate for 10 minutes.
Slice peaches and lay out on a kitchen towel to dry slightly. Set aside around twenty of the nicest slices and scatter the rest over the batter, using a spoon to push them under the batter's surface. Then, arrange the reserved pieces on top. Do not push these in.
Sprinkle liberally with coarse or granulated sugar, making sure to cover the cake's edges for a crunchy, sweet crust.
Bake until cake is golden brown, approximately 45 to 55 minutes. Let cool for 10 minutes, then use a knife to loosen sides, lift out cake, and let cool on a wire rack.
Cake keeps for a day or two tightly wrapped at room temperature.