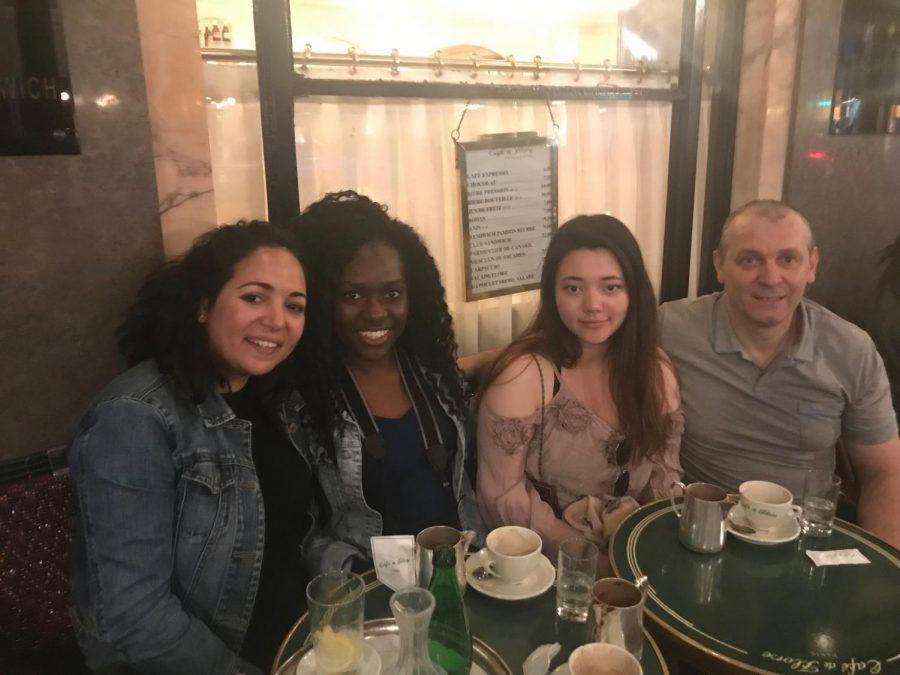 Photo Courtesy of: Mayila Deus
This summer, nine CRLS students travelled to Thailand, Peru, Morocco, France, Italy, Spain, Chile, and the Dominican Republic, all through CIEE, the Council on International Educational Exchange.
CIEE is a nonprofit organization that promotes international education. This summer was CRLS' second year collaborating with the organization to grant students need and merit-based scholarships to its summer programs abroad. They offer programs focused on culture and language, service and leadership, and global discovery.
Language and culture trips include studying Arabic, Mandarin Chinese, French, German, Italian, Japanese, and Spanish, all taught in countries that speak each respective language. Service and leadership trips include Empowering Girls Through Sports in Iringa, Tanzania, Mentoring Youth and Raising Social Awareness in Santiago, Dominican Republic, and Environmental Justice Through Youth Education in Khon Kaen, Thailand. As for Global Discovery trips, Australian Wildlife Conservation in Perth, Theater Arts Behind the Scenes in London, K-Pop Immersion in Seoul, and Queer Life and Activism in Amsterdam are offered, among many more, according to CIEE's website.
Ten to 100 percent of the program costs can be covered by CIEE. This past summer, 33,000 dollars given were granted in total for the nine students who participated. "The scholarships make the difference," said Mr. McGuinness. "The whole point is to open it up to more of our students."
Leo Austin-Spooner '21, who completed the Arabic Language and Culture program in Rabat, Morrocco, said that the trip helped with his language learning. "I gained the ability to confidently speak to people in Arabic because I had to," he explained. "There were lots of instances where I just had to speak the Arabic I knew." Now, he feels confident going into Arabic II. "It was a really great trip," he said.
Senior Mayila Deus travelled to Paris for a month this summer for the French Language and Culture program. "It was amazing," she said. "Honestly I couldn't ask for a better experience; everything was great from the family to the classes and just being in Paris."
For Deus, the language immersion provided by living with her host family helped her the most in improving her French. "One of the best ways to advance your language study is by living abroad and using the language in the country where it's spoken," explained Dr. Kelleher, CPS's Coordinator of World Language, who oversees the administrative work of partnering with CIEE. He continued, saying "[it's] just an incredible opportunity to advance language skills, cultural awareness, and it just helps students to be ready to go out to the real world and have all kinds of different career experiences."
Eva Soriero, who was a CRLS sophomore last year but moved back to Seville, Spain, went on the Mentoring Youth and Raising Social Awareness trip to Santiago de los Caballeros, Dominican Republic. She noted that the trip "was really well-organized" and that the service aspect of the trip showed her the importance of gratitude.
Both Mr. McGuinness and Dr. Kelleher, encouraged more students to apply. "Honestly, we should have twenty kids a year going on this program," said Mr. McGuinness. "We need more people to be aware of this, that this is an opportunity for students to travel the world,  to have an amazing, life changing experience at a reasonable cost. They have to buy in a little bit … but they'll never get another opportunity like this for the rest of their life." Any CRLS student in their freshman, sophomore, or junior year is welcome to apply.
However, students are still responsible for travel costs and any incidentals, such as costs for passports or spending money. According to Mr. McGuinness, the Travel Committee is "looking to build a local fund that would be available for students to apply to for grants that would cover those travel expenses."
"What I want is for more of our students to have a world view, rather than a Cambridge view or a neighborhood view," Mr. McGuinness said. "The more we can get our students out in the world around us, the broader you can expand kids' minds by travel, the better off we all are, the better off the world is."
There will be an informational meeting about CIEE on Thursday, October 11th at 6:30 PM in the Media Cafe.
This piece also appears in our September 2018 print edition.