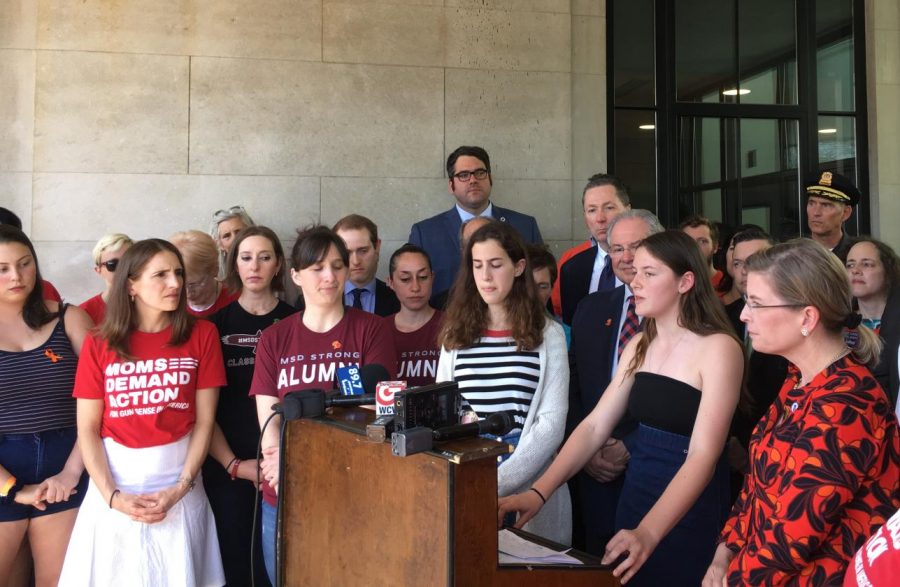 Miriam Alvarez-Rosenbloom
"Our students deserve nothing less," said Speaker of the Massachusetts House of Representatives Bob DeLeo at a press conference held outside of CRLS' main building during a sweltering Lunch C on Wednesday, May 2nd. His comment came before announcing that the House will soon vote on H 3610, an Extreme Risk Protection Order (ERPO) bill.
The bill, introduced by Cambridge's State Representative Marjorie Decker, creates a legal mechanism which can temporarily prohibit firearm access to individuals deemed a significant risk to themselves or others by household or family members.
Family members would be able to petition the court for an ERPO, which would prevent the person in question from owning or purchasing firearms for a year.
Ms. Decker, the Massachusetts Chiefs of Police Association, Moms Demand Action, Marjory Stoneman Douglas alumni, and several Rindge students—two of whom spoke—were present at the press conference.
Speaker DeLeo thanked students—and CRLS and Somerville High students in particular—for the actions they have taken since the Parkland shooting. He also noted the impact of the activism of MSD students. "You have made a difference," said Speaker DeLeo. "And for that, I am forever grateful."
In March, at a student-led walkout for gun reform, students were encouraged to call state legislators demanding the passage of the ERPO bill.
Since then, student activists and organizers have been working towards the announcement made earlier on the 2nd.
The bill "puts the power in the hands of those who would be directly affected by the issue of gun violence," said Jonathan Matsko '19, an organizer of the March 7th walkout, in an email to the Register Forum. "It's important that Massachusetts continues to set a good example for other states by making this bill actual law."
During the press conference, Roni Kirson '21 and Gracie Thompson '20 expressed their feelings regarding gun violence and school shootings in the US.
Both recounted experiences of lockdown drills and learning what to do in the case of school shootings from a young age.
"It's been too long of little kids sitting in their classrooms and having to think about [school shootings], and not just about whether they get their homework done," said Kirson.
Ms. Decker said of the student speakers: "When elected officials listen to young voices … change happens for the best."
This piece also appears in our May print edition.