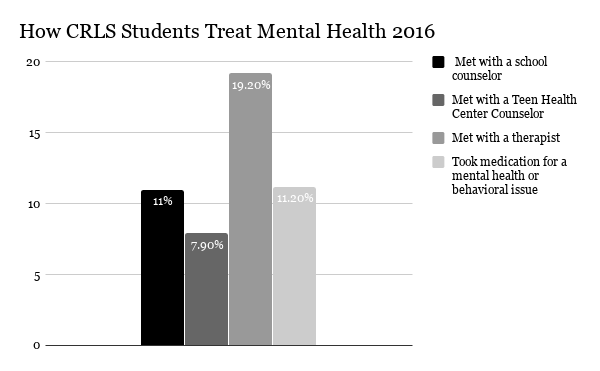 Miriam Alvarez-Rosenbloom
On Thursday, April 26th, an assembly centered on mental health awareness was held during all four periods. Unlike typical assemblies—where teachers sign up for space and bring classes as a whole—this assembly was designed to be open for all students, and students were to attend their respective assembly with the rest of their grade.
CRLS Dean of Science Allan Gehant estimated that around 80% of the student body was present at the assembly, which is much higher than attendance for other assemblies at Rindge.
Every other year, an assembly about mental health awareness is held at CRLS. The recent assembly was planned at the beginning of the 2017-2018 school year in collaboration with the Cambridge Health Alliance. It was prompted by data from past CRLS Teen Health Surveys, which show a rise in levels of anxiety and depression over the past ten years. In 2016, 29% of students reported symptoms of anxiety and 25% reported symptoms of depression. Nationally, 20% of youth are affected by mental health conditions, according to Jose Wendel, director of population health initiatives for the Cambridge Public Health Department.
Mr. Gehant opened the assembly and invited four STARs students—Yazmeen Gedeon '18, Kiana Laws '19, Bonnie Murphy '18, and Mohamed Mohamed '18—to the stage. They explained that they have been focusing on creating awareness about mental health issues for their STARs action project. The group led the audience in an interactive series of questions about personal experiences and opinions about mental health and students responded through raising their phone flashlights.
The majority of the assembly was led by Andrew Onimus, a speaker who works with the nonprofit mental health education organization Minding Your Mind. He shared his personal struggles with anxiety and depression and discussed symptoms of the mental health conditions he faced and advice for getting help and working towards recovery.
Sharing a personal story "is an effective way to reduce the stigma and normalize [mental health issues] so people can talk about them more," Mr. Onimus told the Register Forum. "We always hear the negative things about mental health issues … but we're trying to change the conversations around these things in a more positive light and provide help for those who need it."
Junior Gassendina Lubintus said she had expected a more traditional assembly format of an informational lecture and a question-and-answer session, but felt that Mr. Onimus's story was effective in engaging students. "I feel like stories are a good way to connect, especially if you're trying to convince someone; to reach out and touch people's hearts," she said.
In terms of further actions to improve the mental health of Rindge students, the STARs students and Lubintus both mentioned the idea of a "relaxation room" at school for students to take breaks and relax when faced with stressful situations.
In addition to the assemblies for students, there was a staff meeting on April 21st on the topic of mental health and a "Just Talk About It" workshop for parents Thursday night. The staff meeting was led by Jon Mattleman, a presenter on mental health, and focused on possible signs of anxiety and depression and the actions teachers can take to support students. During the parent workshop, Mr. Onimus shared his story and was accompanied by a clinical social worker who answered questions.
To conclude the third period assembly, Allison Warshof, a social worker from CRLS' Teen Health Center, encouraged students to seek help even if they think their problems are not severe enough to call for it. "Anybody who is concerned about their mental health can stop [by the Teen Health Center]."
According to Ms. Warshof, events such as this assembly are beneficial to students. "When people are dealing with mental health issues, they often feel isolated," Ms. Warshof told the Register Forum. "When there are events that are centered around mental health, students get to see that they're not alone in this experience."
The Teen Health Center is an extension of the Cambridge Health Alliance and is located on the first floor of the Rindge building, next to the Main Cafeteria.
Students can go to the Teen Health Center for help regarding physical, mental, or sexual health. There are also resources for students seeking support for drug and alcohol use and legal help around immigration.
"These are the years of people's lives where a lot of things change," commented Mohamed in an interview with the Register Forum. "A lot of people suffer through silence, and that leads to much [worse] things; it's good for people to feel supported."
This piece also appears in our May print edition.