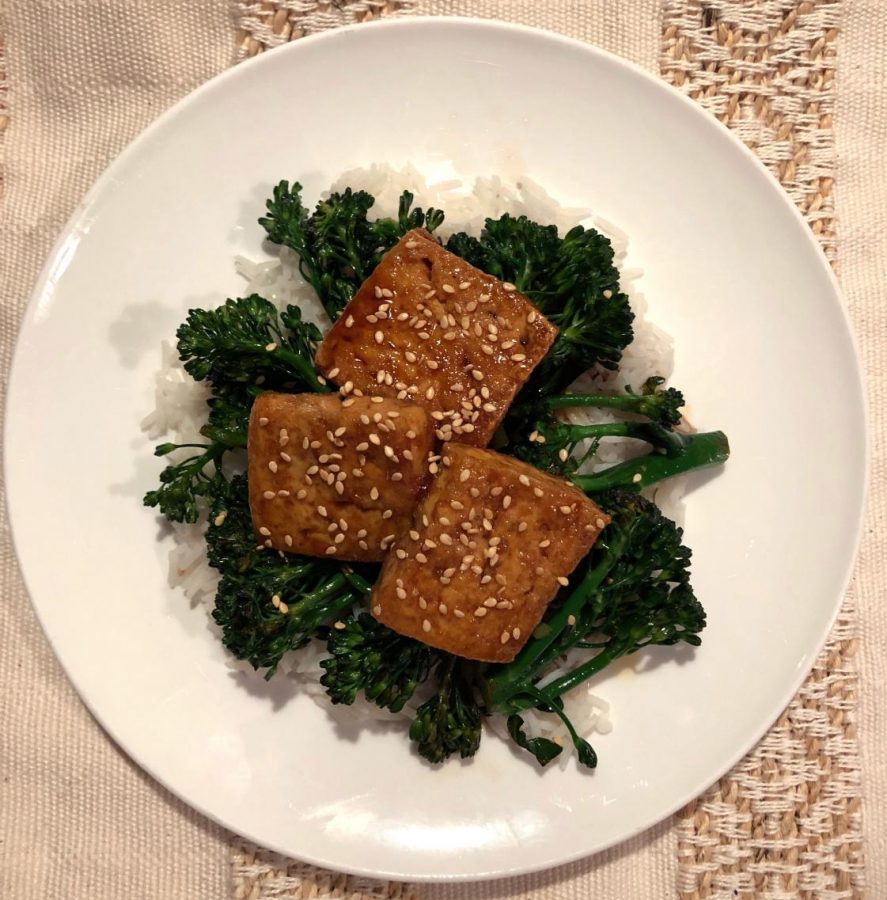 Miriam Alvarez-Rosenbloom
Pressing as much moisture as possible out of extra firm tofu and frying until golden brown yields a crispy exterior and a soft, custard-y interior. Feel free to substitute whatever vegetable looks good or what you have on hand. Recipe adapted from Bon Appetit.
1 package extra firm tofu
⅓ cup vegetable oil
½ cup low-sodium soy sauce
2 ½ tablespoons rice vinegar
2 tablespoons honey
½ tablespoon finely chopped ginger
1 bunch broccoli
½ a lemon
Drain tofu and cut block into ½-inch wide rectangles, then cut each in half to get about 12 square pieces. Cover with a paper towel or clean dish towel and a frying pan or other heavy object, being careful to not crush the slices. When the towel is soaked through, replace with a fresh one. This step is important—pressing for 10 minutes will work fine if you dry off each slice before cooking, but if you have 30 minutes, that will work best.
While you wait, consider the vastness of the universe and stir together the soy sauce, vinegar, honey, and ginger.
Heat oil in a pan. I use olive oil for everything, but use a neutral-flavored oil if that's what you prefer. Once the oil is hot, carefully place tofu down. Do not toss it in; oil will splatter and burn you. Let tofu fry undisturbed for 4-5 minutes on each side, until slightly more done than golden brown. Remove tofu and pour out excess oil.
This time, you can toss it back into the pan with your sauce, and cook, turning the tofu to soak up the glaze until sauce thickens.
In a separate pan or wok, sauté broccoli in a bit of oil. Once the broccoli has slightly softened and edges darken, squeeze in lemon juice. Season with salt and pepper if you'd like, but the soy sauce should provide enough saltiness. Stir once more, then add in tofu and sauce. Serve over steamed white rice.
This dish, which is really more of an idea, would pair well with a simple salad of arugula or greens lightly sautéed with garlic and balsamic vinegar. I drizzled this with a mix of za'atar and olive oil (which has found its way into nearly everything I eat these days). It can be bought at Middle Eastern markets; I got a large container for $3 at Eastern Lamejun in Belmont. Ingredients can be easily scaled up or down.
This piece also appears in our May print edition.