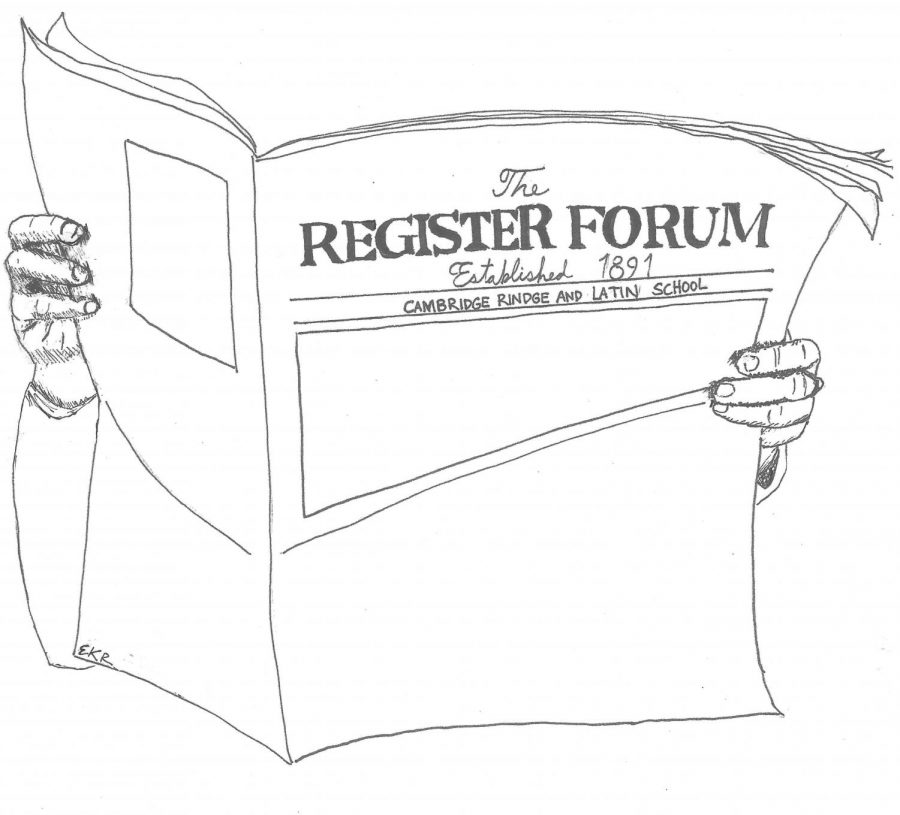 As the world around us changes and the Register Forum itself undergoes crucial advancements, it seems appropriate to ask: What are we? And possibly more importantly: What do we want to be?
Our old motto, added to the masthead a few decades after the merger of the two Cambridge high schools (and their papers), read: "Listening to every voice, printing what you need to hear." Without talking long and hard, this year's editors agreed: This newspaper is about elevating student voices, not filtering them.
I believe that the spirit of the old motto was well-intentioned when it was created, but when you pause to reflect on what message it was actually communicating, it feels like saying that the Register Forum is somehow above the rest of the student body—that the Register Forum staff, exclusively, gets to decide what voices you hear. That is not us. The Register Forum is, first and foremost, a student organization, and it should always be a place where any student can come to shine a light on the voices of others and to explore their own voice through student journalism.
As an organization, we have a lot of room for improvement, especially when it comes to representing more of CRLS' student body. But our motto does not have to be about what we are right now. The way I see it, the Register Forum is in a transitional period stimulated by the changing industry of journalism in our country and around the world. We cannot predict what changes will come to the ways that other news organizations tell stories or to the ways that we continue to share stories in our community, but by creating a motto rooted in our core values, we can create something that outlives—and even guides—these changes for our paper.
In 1892, the C.M.T.S. Register's editor-in-chief expressed a simple goal in the paper's first ever volume, distributed to what was then the all-boys Cambridge Manual Training School. "Our paper is devoted to the interests of the boys of the school," George W. Wells wrote.
The Register Forum, CRLS, and the world today are not what they were when Wells was editor, yet his sentiment resonates with me. The Register Forum must continue to be devoted to the interests of students. This applies to the internal workings of our paper in the ways that we foster collaboration and innovation among student-journalists, but also to the work we strive to produce for our school community. I look forward to working with students in our community—both contributors to the Register Forum and readers of it—as we seek to encapsulate the ethos of the newspaper in a new motto.
If you have ideas about what the Register Forum should include in our new motto, please reach me by email at [email protected] This piece also appears in our March/April print edition.