"Black Panther": Celebrating the Black Community with Film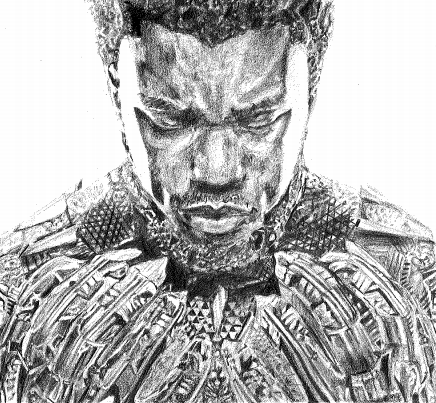 Falcon Rating: 4/4
Produced by Marvel Studios and directed by Ryan Coogler, Black Panther is a 2018 American superhero film based on the famous Marvel comic series. Black Panther premiered in Los Angeles on January 29th, 2018 and was released in theaters around the U.S. on February 16th, 2018.
The movie touched upon Afrofuturism, which imagines a black way of life free of white supremacy and bigotry. Black Panther, according to many news reports, is the first blockbuster film centered around Afrofuturism, where the writers, directors, makeup, and wardrobe team all imagined a beautiful, thriving Africa without colonialism.
Black Panther's main character, T'Challa (Chadwick Boseman) is the king of the various tribes that make up Wakanda—a fictional nation that borders Kenya, Ethiopia, Uganda, and South Sudan. The country is only visible to others as impoverished, but in reality, it's a thriving metropolitan city. The country's wealth is made possible by vibranium, an element with superpower qualities, yet effects that only exist in their region. The plot of the film focuses on T'Challa trying to protect the nation from outside influences that attempt to steal vibranium in order to make money in the outside market.
In Black Panther, Michael B. Jordan plays the role of Erik Killmonger, an African from Wakanda who was seen as an outsider because he grew in America, therefore he did not have any connection with the citizens of Wakanda.
"
Black Panther brings everyone together, whether you have a particular interest in the Marvel universe or not."
The role of Michael B. Jordan was, to me, the highlight of the movie. He portrays Killmonger character as an antagonist at first, since he comes in and ruins the perfect picture of Wakanda by overthrowing the king—but, having seen the movie twice, I got to really analyze the meaning of his role. He represented the Black Americans whose ancestors are from Africa. He was trying to find a way to personalize being African, being African-American, and the relationship between black people in the diaspora, but what he's talking about is something that I think T'Challa—and all of us—can relate to: wondering what has happened to our world and equality.
When slavery was widely practiced, many African men were taken from different countries and transported by boat to unknown locations. The conditions were inhumane and some chose to jump into the Atlantic and save their kids from the cycle of slavery.
Killmonger chose to die and not endure public shame due to his failed mission to get vibranium: "Just bury me in the ocean with my ancestors that jumped from the ships. Because they knew death was better than bondage."
I give this movie 4/4 Falcons because, overall, Black Panther lived up to its hype. It brings everyone together, whether you have a particular interest in the Marvel universe or not.
It made the African American community proud and portrayed our history, culture, and tradition through a different lens.
This piece also appears in our March/April print edition.