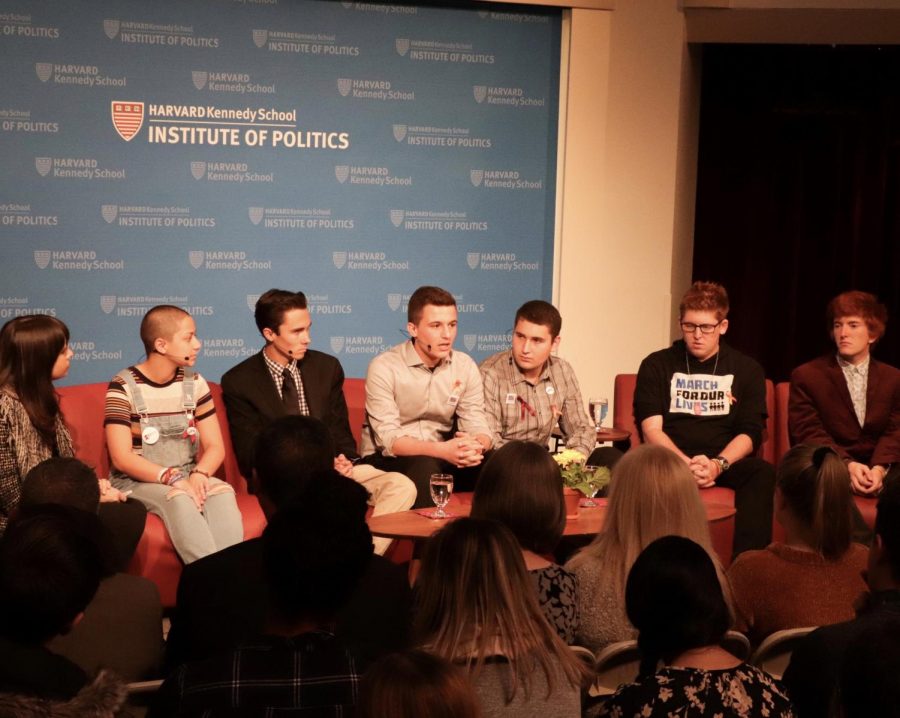 Vera Targoff
On Tuesday, March 20th, six Marjory Stoneman Douglas High School students spoke at the Harvard Kennedy School Institute of Politics. The forum, titled "#NeverAgain: How Parkland Students Are Changing the Conversation on Guns," lasted a little over an hour and featured a panel discussion followed by a Q&A session with the audience.
Institute of Politics Director Mark Gearan opened the forum, emphasizing the importance of freedom of expression and reminding audience members to be respectful before welcoming the Parkland, Florida, high school students to the stage. They were joined by moderator Meighan Stone.
Marjory Stoneman Douglas (MSD) senior Emma Gonzalez began the panel discussion by leading the audience in a moment of silence, motivated in particular by the school shooting in Maryland earlier that day. Afterwards, Gonzalez and her classmates David Hogg (MSD '18), Cameron Kasky (MSD '19), Alex Wind (MSD '19), Matt Deitsch (MSD '16), and Ryan Deitsch (MSD '18) discussed the #NeverAgain movement. March For Our Lives, a student-led protest demanding action from Congress on the issue of guns, is set to take place this Saturday, March 24th, in Washington, D.C. and across the country.
Fighting Complacency & Looking Forward
During the discussion, the group prompted Hogg to lay out his rough plan for the next year, which highlights how students across the country can be civically engaged, starting in their communities. "When we become uninvolved, democracy dies," said Hogg. With his plan, Hogg pushes for students to create clubs, either in their schools or—if their schools don't allow it—in their communities, and to organize marches lobbying for action from lawmakers.
When one woman from the audience asked the group about their advice to teachers, the students talked about teachers who have inspired them and emphasized the importance of fostering a connection between curricula and life outside of school. Hogg advised, "Show [students] the real-world applications, and we'll change the world."
According to the MSD students, action can be taken not only by teachers, but by school systems and administrators. Gonzalez highlighted the importance of support staff in schools, stating that instead of arming teachers with guns, the U.S. should "arm the schools with therapists." During the panel discussion, Gonzalez also commented, "You can't settle into that stew of thinking 'I can never change anything.' You need to act—and acting is incredibly important."
In an interview with the Register Forum after the event, Hogg added, "People need to understand this: Nobody thinks this will happen to them." To avoid complacency, he urged students: "Make sure you get out, register to vote, and vote for the rest of your life."
Kasky told the Register Forum, "Feel free to look up your congresspeople, look up your representatives, and see if they have a stance on specific issues. And if there's no stance, or if there's one or two bullet points, call them. Ask them, 'What's your stance on this issue?'"
"We have to put up the good fight," Hogg said to the Register Forum, continuing, "We have to continue to learn to love each other and not hate on each other, because hate is a great instigator, but it's like adrenaline. It can keep you going for short spurts, but it's emotionally exhausting. What love and compassion is is emotionally empowering, and it's stamina. It'll keep you going." He concluded, "It's remembering to love each other—regardless of what your opinions are—that is the hardest part."
Striving for a "Unified Front"
Kasky commented during the panel discussion: "It's easy to feel guilty that we have this platform, and others that face this tragedy [of gun violence] every single day don't. But we have to forgive ourselves for that and represent everybody. We have this spotlight—we need to shine it on the people who are too often ignored."
After the event, Hogg acknowledged to the Register Forum, "The Black Lives Matter movement was trying just as hard—and even harder—than we were." Hogg noted that coverage of different movements and events is not always balanced, continuing, "As a country, the media and the audience that that media plays to is complacent in this racial bias."
According to Hogg, now that people are recognizing that they did not stand up in the past, "Why not … come together as a unified front—not as Democrats and Republicans, but as Americans?"
During the panel discussion, Matt Deitsch emphasized, "This conversation about inclusion and diversity is a really good pat on the back for a lot of people, but I mean, if you look up on [this] stage, you'll notice that something's missing."
"The fact of the matter," Deitsch continued, "is that we have to partner with these groups that already exist, whether it's the Dream Defenders, Black Lives Matter, … [or] all these groups around the country that stand up for these disenfranchised voices." He concluded, "It makes me absolutely sick that we're not sharing the stage right now, but I promise you, when you see us on Saturday, we will be."