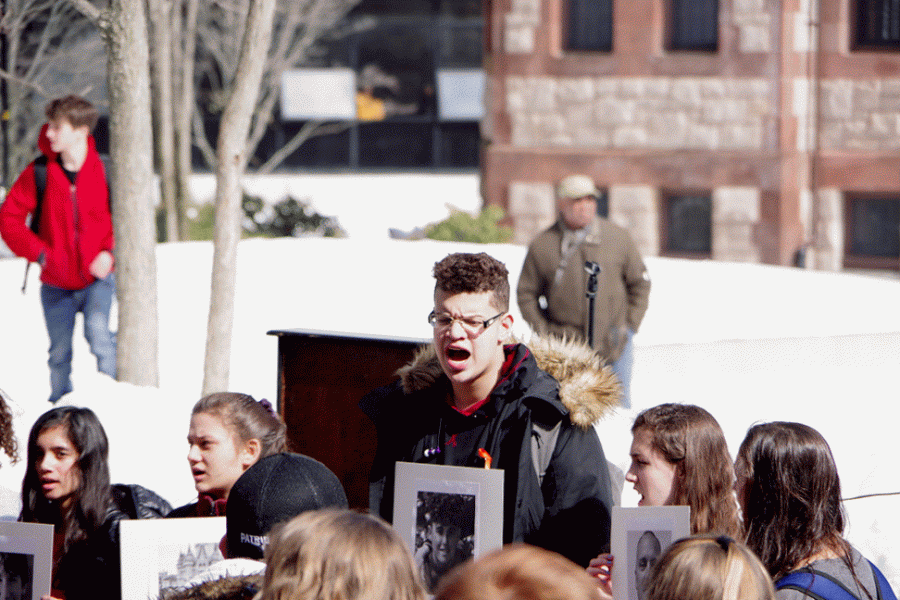 Sakib Asraf
A month after the Parkland, Florida, school shooting, hundreds of CRLS students and staff gathered both in and outside of school on Thursday, March 15th, to address gun violence.
In-school discussions about gun violence took place during the morning through a school-administered X-Block, planned with the assistance of student representatives. In the afternoon, students led a walkout as part of the #NeverAgain national school walkout. Both events were previously planned for March 14th—National Walkout Day. However, the snow day pushed both events to Thursday.
Fostering Discussion
Thursday's X-Block, a school-wide extended Community Meeting period, was planned by the school administration and members of Student Government with three main objectives: to educate individuals about the issue of gun control, to understand various perspectives, and to brainstorm ideas for the future. The period was guided by discussion questions and videos, including clips from a recent town hall hosted by CNN, to achieve these goals.
"I feel like the videos were more thoughtfully chosen [compared to past X-Blocks]," commented sophomore Uma Edulbehram. Others agreed with Edulbehram, including sophomore Sofia Savid. "You actually got to see the students and the parents [affected by the Parkland shooting]," explained Savid.
Several other students shared positive reflections on this X-Block, especially regarding staff involvement. "The teachers also talked with all of the students," said senior Beminet Desalegn, speaking about her CM group. "It wasn't just one-sided." This, according to Desalegn, led to deeper conversations compared to past conversations in her CM.
However, others questioned the effectiveness of the structure of X-Blocks. "X-Blocks a lot of the time aren't really meaningful to a lot of people because not everyone's participating," sophomore Danielle Patrice commented.
Edulbehram also reflected that her CM's discussions were led by only a few voices while others completed school work or used their phones.
Some students feel the content itself is flawed. "I feel like our X-Blocks shouldn't be so much about political issues," junior Giacomo Milia commented. "They should be about understanding the political system which is—in itself—very, very complicated."
Art teacher and junior CM teacher Ms. Menges added, "I think none of us—students and staff alike—are very good about answering honestly and openly in a vulnerable way when the conversation is structured and being watched … I think the more productive conversations happen organically afterwards—when people talk freely."
Stepping Out to Take a Stand
At 2:10 PM on Thursday afternoon, hundreds walked out of the school building to further address gun control. They joined Cambridge politicians in gathering around the front entrance of the school, where student organizers held signs with the photos and names of the 17 victims of the shooting at Marjory Douglas Stoneman High School in Parkland.
Several individuals in the crowd—some of whom sat on the shoulders of their peers—also held up signs with various statements: "We are the new voice!" "One child is worth more than all the guns in the world." "Enough is enough." The posters were waved in the air as organizers led the school in various chants.
Though these chants engaged the crowd, they prevented the moment of silence—observed at 2:17 PM—from being completely quiet. As the minute came to an end, individual speakers approached the podium set up in front of the school. Although each speech was different, a common message tied them together: the need for today's generation to take action.
"We stand with schools all over the country as part of a movement to protect both ourselves as well as others from such tragedies," stated sophomore Gracie Thompson, one of the main organizers of the walkout. Thompson also spoke of the lethal effects of an AR-15 assault rifle, which was used in the shooting at Marjory Stoneman Douglas High School.
Several students spoke after Thompson, as well as CRLS history teacher Mr. Montero. Mr. Montero, like other speakers, emphasized the importance of young adults in creating change, but also the disproportionate demographics of gun violence victims. "This movement touches us all—people of color much more severely and much more frequently," he stated. He continued by speaking directly to the young adults in the crowd, urging them to lead others in the right direction.
Mayor Marc McGovern, who was invited to speak by organizers, shared similar sentiments. "You are the voices that are going to make change," he declared as the crowd snapped and cheered in agreement. He ended his speech with a quote from John F. Kennedy: "One person can make a difference, and everyone should try."
The rally concluded with the reiteration of one of its main goals: individual action. Students and adults were encouraged to participate in the upcoming March for Our Lives protest on March 24th, contact state representatives, and join the Massachusetts Coalition to Prevent Gun Violence. Students who were of age were also encouraged to register or pre-register to vote at a table set up near the front doors of the Rindge building.
"It's too easy for us to turn to anger, to hatred, to violence," freshman Luke Santos shouted as he passionately addressed the crowd towards the end of the rally. "But if we can set aside the labels which have come to define us and acknowledge that we are not Republicans, we are not Democrats, we are simply Americans united under a common desire to protect children from gun violence, a change is going to come."