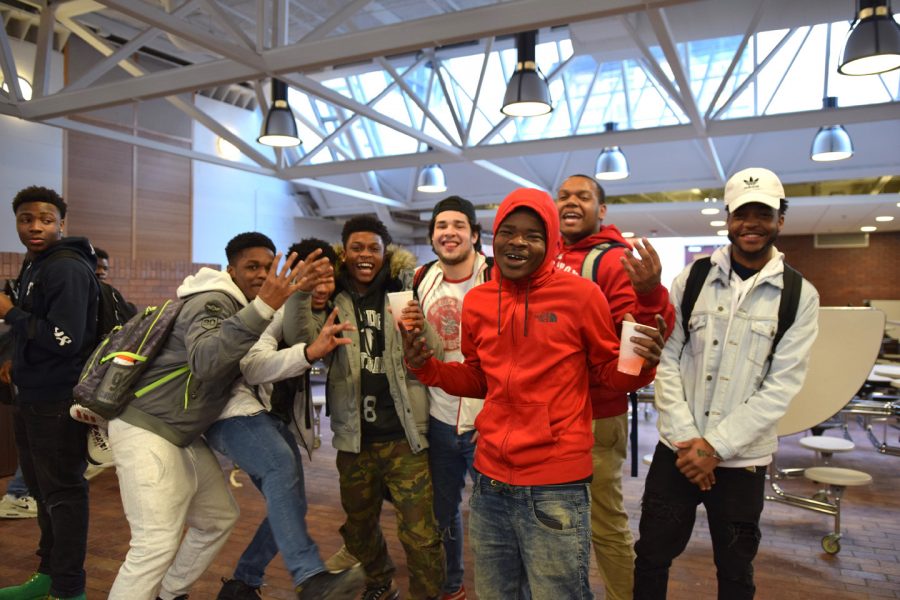 Harry Greenblatt
On February 2nd, the Black Student Union hosted "Bring It Black," an event in the Main Cafeteria after school that was sponsored by Boston radio station JAM'N 94.5. Many students attended the event, which was filled with music, food, dancing, and competitions.
According to the Black Student Union's faculty advisor, Kevin Dua, the event was a way for the student body to come together as a community.
"[The event] was primarily to show that the Black Student Union wanted folks to realize that they are truly about community," Dua said. "Community should be accessible for anyone—any grade, any color—to enjoy."
Tara Jones, a senior and member of the Black Student Union, said that JAM'N 94.5 had reached out to the BSU about hosting an event after seeing the videos they had made in the past months.
According to Dua, JAM'N 94.5 "felt that the efforts [of the BSU] in trying to focus on dialogue and activism and community was something that they wanted to add momentum to, especially for the second half of the year."
As they entered the event, students were greeted by a decorated cafeteria with a DJ from JAM'N 94.5 playing music. Attendees danced with each other, occasionally being interrupted by announcements about donut eating contests, which took a long time but ended up creating lots of laughs.
The event was full of energy and enthusiasm from the students as they sang and danced, and it was obvious that people were having a lot of fun.
Bring It Black was "100% student-run," according to Mr. Dua. "For three weeks, the students met after school, [and] they coordinated different activities that would be open for everyone. They coordinated the prizes, reserved the space, [and] did walkthroughs. Everything that you saw today, even the advertising, was all student-driven."
Jones agreed that the event was completely student planned. She said that once JAM'N 94.5 had reached out about wanting to sponsor it, the students completely took it from there.
"There was a meeting where [Mr. Dua] left the room and we wrote all the things that we needed to get done on the board for the event," Jones said. "So we just did everything one at a time—checking off the list, talking about how we were going to advertise, and who was doing what jobs during the event, and stuff like that."
Mr. Dua expressed his appreciation for the members of the BSU in being able to coordinate the entire event.
"It says a lot about how 30 individuals wanted to make sure that as many students as possible would be able to just walk through some doors and have fun with their friends and classmates," Mr. Dua said.
Jones said that she was pleasantly surprised at the amount of students who came, and commented that the BSU is working on planning another event in the month of April, that students could come and enjoy again.
Mr. Dua was also pleased with how the event turned out. "I think the students dancing as wildly and as loudly and as proudly as possible after school says a lot of how much the student body and teachers are learning more and more about supporting them," Mr. Dua said. "Hopefully everyone had fun at the end of the day."
This piece also appears in our February print edition.