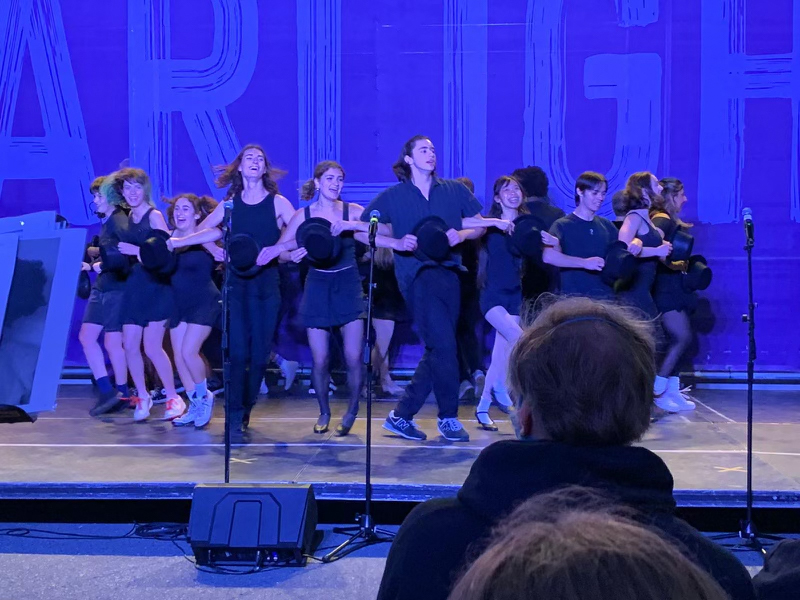 Farah Coplon-Newfield
The Fall and Spring musicals have been a longtime tradition at CRLS. Sadly, due to COVID-19 restrictions, this year's fall musical was canceled, leading many to worry that a spring musical wouldn't be possible either. However, CRLS seniors were determined to put one on, and A Chorus Line came to be on the Starlight Square stage.
The musical centers a group of dancers auditioning for a show. While the whole musical takes place in one studio, the performance transports the audience through the lives and stories of all the various dancers. In this way, CRLS students were able to cover a variety of difficult topics, from racism and queerness to unstable households and divorce. Such stories are usually ignored, yet the actors embodied them with full conviction. In turn, this helped the audience leave with a better understanding of the characters as well as the underlying issues that the show addresses.
Seniors Jinho Lee and Danato Christie led the push to put on the musical, but they were definitely not alone. Amazing teachers and mentors such as Leah French and Berhan Duncan played a crucial role in putting the show together. Additionally, CRLS students from all grade levels fully committed to the performance—as was clear in the beautiful singing, dancing, and acting seen throughout the entirety of A Chorus Line. Everything from the lights, sounds, costumes, and even choreography was done by the students. As the dance captain Cherace Lin '23 described to the Register Forum, "It was super exciting getting to choreograph and having the opportunity to do whatever we wanted, but it was also super stressful…I couldn't have done any of it without the support of the cast."
Since the musical was not officially endorsed by CRLS, the actors had to rehearse under less-than-ideal circumstances. From not having access to the school's costumes to rehearsing in the Media Cafeteria, the members of A Chorus Line proved time and time again the extent of their commitment. Even through adversity, actors like Julia Teller '24 highlight the positives, which included learning the songs and dances and preparing for the performance. Teller told the Register Forum "I loved dance rehearsals because they were super fun and once everyone got the dance, it felt like we were that much more ready for opening night."
For two and a half years, students of all ages have lost the chance to perform. However, this spring CRLS students were finally able to get that opportunity back. As the director, Leah French, described the production, "[it] is a story about love, specifically the love that artists have for their art form. The dancer must dance, the singer must sing, and the actor must act because they could not live their lives without their art."
This piece also appears in our June 2022 print edition.