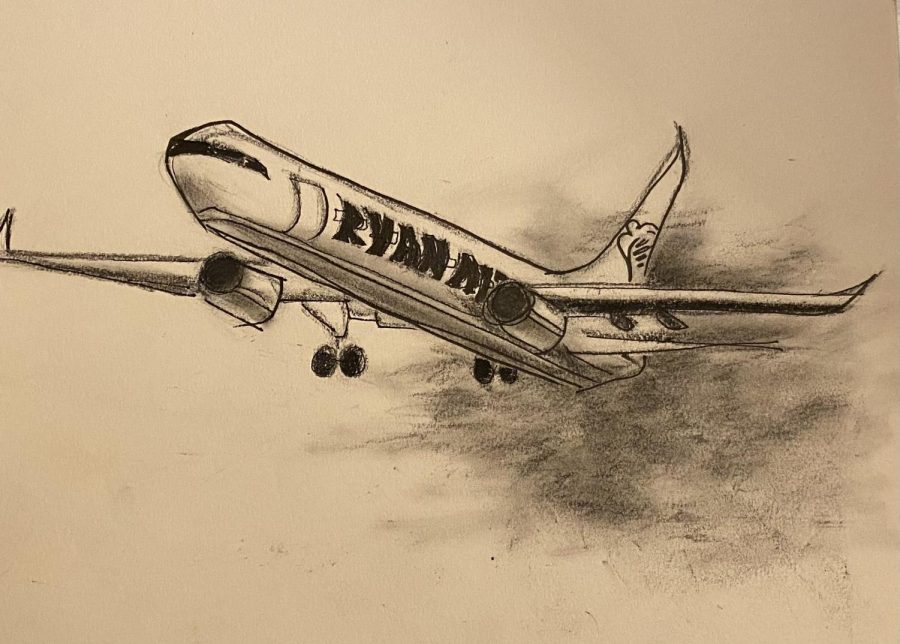 Miranda Santiago
On May 23rd, Ryanair Flight 4978 departed from Athens on its way to Vilnius; a common route for those returning from abroad. Among the passengers was Roman Protasevich, a Belarusian dissident blogger and activist returning to his current home in Lithuania. Nearing Lithuania, the plane passed through Belarusian airspace, where air traffic controllers informed the flight crew of a possible bomb on board. Belarusian authorities demanded that the flight divert to Minsk—although the plane was already closer to Vilnius—and sent a MIG-29 fighter jet to "escort" them. Upon arrival in Minsk, no bomb was found, but Protasevich and his girlfriend Sofia Sapega were arrested. It was clear that the forced landing had nothing to do with a bomb threat; Belarus had simply hijacked an EU airliner to arrest a dissident. As Ryanair CEO Micheal O'Leary pointed out, the diversion was little more than "state-sponsored piracy."
But why would the Belarusian government want to arrest a blogger living abroad? Protasevich is an important figure in the struggling Belarusian democracy movement. After the fraudulent reelection of President Alexander Lukashenko, a man often called "Europe's last dictator," Protasevich was a key organizer of anti-government protests in mid-2020 from exile in Lithuania. Already viewed as an enemy of the regime for co-founding the popular anti-government Telegram channel NEXTA and publishing ceaseless criticism of Lukashenko, this "provocation" apparently led to a state decision to arrest him if the authorities ever had the chance—which they did on May 23rd.
But what good will arresting a political refugee do for Lukashenko? It may silence a major voice of anti-government sentiment, but is that worth the inevitable cost of more anti-government sentiment and international outrage? Lukashenko continues to demonstrate poor judgment in managing Belarus and his regime. This latest action is extreme even for contemporary authoritarians, and is likely to further isolate Belarus from the West and consequently cement its subservience to Moscow.
Lukashenko, a former Communist Party bureaucrat, ascended to the presidency in 1994 during the tumultuous years after the USSR's collapse. His version of "democracy," like most post-Soviet attempts, quickly failed (by design) as power devolved to corrupt officials. And like many other post-Soviet leaders, Lukashenko altered his nation's new constitution to maintain his position and strengthen his authority over the state. Since then, his administration has been marked by his controversial statements, irresponsible policies, and constant fear of losing power. Notably, Lukashenko's currying favor with the Kremlin in Moscow ceded power over many aspects of Belarusian politics and economics to Vladimir Putin, which weakened Belarusian sovereignty. This ineptitude continued with his refusal to address the coronavirus pandemic—a primary reason for the protests of 2020. He has repeatedly downplayed the severity of COVID-19; touted remedies such as folk medicine, butter, vodka, driving tractors, using saunas, and hockey playing; refused to institute a mask mandate; and dragged his feet on instituting lockdown restrictions. Partly because of this, millions of votes were cast for opposition candidate Sviatlana Tsikhanouskaya in the August presidential election. When Lukashenko claimed 80% of votes cast, protests erupted nationwide—Belarus's largest protests in modern history. This put organizers like Protasevich directly in Lukashenko's crosshairs.
The crackdown on protesters and Protasevich's arrest have already resulted in severe consequences for Belarus. The hijacking of Flight 4978 led to a ban on overflights of Belarus by EU airlines. The EU and Ukraine then blacklisted Belarusian airline Belavia, effectively prohibiting direct flights between Belarus and the West. As of June 6th, the European Union and the United States are preparing sanctions targeted towards Belavia and state officials. Lukashenko's dubious decision has caused a foreign relations disaster for Belarus and has essentially sealed the country off from the West. 
These sanctions proposed by Western governments are necessary, as they disincentivize such actions in the future; however, they will likely cause hardship for ordinary people in Belarus and its surrounding countries. Because two important factors in attracting foreign business to a country are stability and ease of transport, the aviation bans and sanctions will most likely damage the Belarusian economy. The new restrictions will also likely cause businesses to leave Belarus in search of more stable economies elsewhere. In terms of negative impacts on its neighbors, the banning of Belavia from Ukrainian airspace will remove perhaps the only cheap travel option remaining for families and friends in Ukraine and Russia split by the collapse of the USSR, as air travel between the two nations has been banned since the Russian incursions into Crimea and the Donbass Region in 2014 and 2015.
However, the ramifications will likely be far greater than just sanctions: Belarus is now firmly within the Kremlin's grasp—almost a client state. The country is sealed off from the West in many ways, leaving Russia as the only remaining friendly bordering country. Russia has been planning for this moment for years: they formed the Union State with Belarus which tied their economies and governments together, they have bribed Belarusian officials in exchange for political influence within the country, and they have used Belarus as a neutral trade hub for EU-bound oil exports. With the West cutting relations with Belarus, the country is more firmly tied to—and at the mercy of—the Kremlin than ever before. Whether Putin wants Belarus to become a puppet state or an integrated part of Russia is unclear, but if Russia ever does decide to strip the country of its sovereignty, there will be little to stop it; Belarus has cut itself off from the rest of the world and is now economically dependent on its eastern neighbor.
Like most autocrats, Alexander Lukashenko's decisions have been primarily aimed at maintaining his hold on power. For 27 years he was able to do this while upholding relative peace within Belarus's borders and a measure of independence from Moscow. With his arrest of Protasevich, he has set his country on a course destined to lead to greater unrest and further absorption into Russia's sphere of influence. Sadly, this is the logical conclusion of Belarusian post-Soviet "democracy," Lukashenko-style.