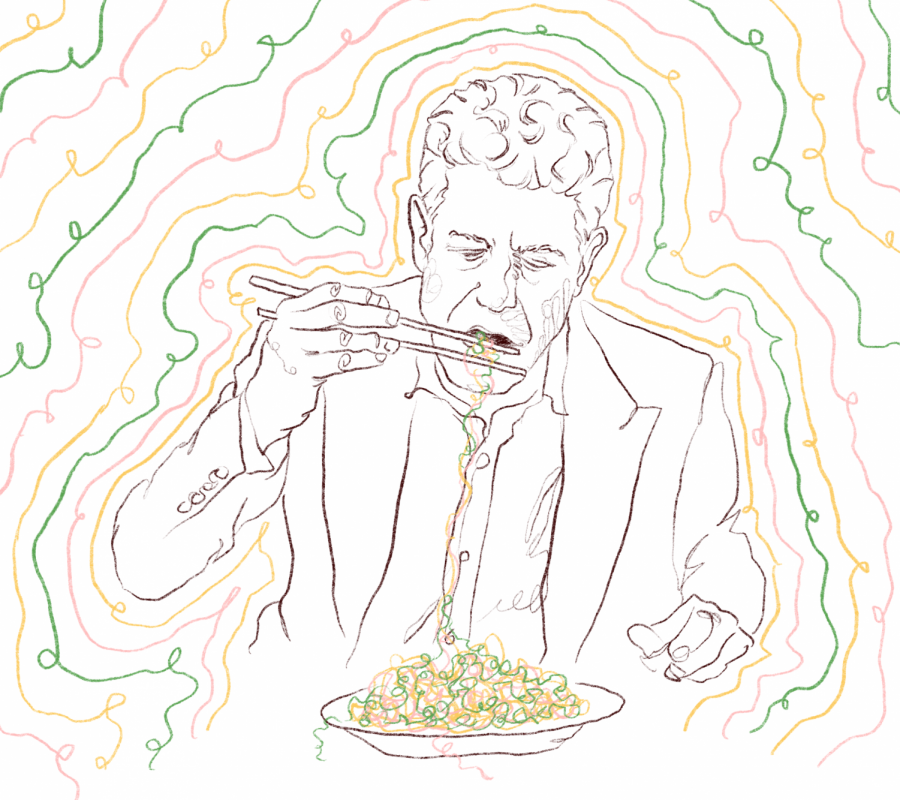 Ada Carter
Anthony Michael Bourdain lived what seemed to be a life of luxury in his extensive travels. His culinary talent and fan-favorite media presence took him around the world and earned him global praise for decades. This June marks three years since his death in 2018, giving us the chance to reexamine his life and impact on the culinary world. 
The son of a record executive and a New York Times editor, Bourdain was surrounded by the arts from a young age. His father's French heritage introduced him to Francophone culture and, most importantly, French food. While he grew up in New Jersey, a childhood vacation to France led him to eat his first oyster on a friendly fisherman's boat. He cites this as a beginning to his love and fascination with food and French cuisine. As Luna Valayannopoulos-Akrivou '23—a French native herself—puts it, he "represented the beauty of food and enjoying it."
A bumpy ride at Vassar College led to him taking a year off of school, during which he was exposed to the culinary arts in a job at a seafood restaurant in Provincetown, Massachusetts. From there, it was a straight shot to the esteemed Culinary Institute of America and a legendary culinary career of his own. 
He began his work as a chef at Brasserie Les Halles, a french brasserie in Manhattan. While his work as the executive chef eventually came to an end, his impact and contributions to the restaurant and community were long lived; even after his departure, he was often described as the "chef at large." Regardless, most of his culinary talent was showcased through various media platforms, from his celebrated articles for publications like the New Yorker and the New York Times bloomed three bestselling books, including a collection of essays entitled The Nasty Bits, which explores his growing relationships with food from his most exotic travels to his interactions with the groundbreaking chefs of the time. 
What earned Bourdain his global recognition and fame, however, was his work in television. From A Cook's Tour in 2002—his first world travel show—to No Reservations, his experience and widespread knowledge of food on a global scale finally took him to Parts Unknown, his longest running and most admired project. 
Parts Unknown was Anthony Bourdain, and Anthony Bourdain was Parts Unknown; he traveled the globe in an effort to create connections between culture, politics, and cuisine in ways that brought a special intimacy to even the most remote locations. His ceaseless efforts to get just a little closer to the people and cultures he explored, coupled with his fearless sense of adventure, made Parts Unknown one of Bourdain's most successful endeavors. A New York Times article claimed "The show's punk stylings, the obvious delight Bourdain takes in eating with Michelin star chefs and roadside food vendors alike, and the show's diverse array of special guests … combine to make [Parts Unknown] a thoughtful and exciting world tour." Students from CRLS seem to agree; Valayannopoulos-Akrivou says "He was an advocate that any food was a whole world to discover no matter how basic or delicate."
As political conflicts continued to arise, he stood his ground, showing his true colors in statements like this one from a 2016 interview, where he addressed critics of certain global cuisines: "Let's call this criticism what it is: racism. There are a lot of practices from the developing world that I find personally repellent, from my privileged Western point of view. But I don't feel like I have such a moral high ground that I can walk around lecturing people in developing nations on how they should live their lives."
His life's work, across all mediums, earned him seemingly every award in the industry. Described as "irreverent, honest, curious, never condescending, never obsequious" by judges, and "A huge personality, a giant talent, a unique voice, and deeply, deeply human" by world renowned journalist Christiane Amanpour, his work will continue to be immortalized in TV, food, and writing, halls of fame. 
Bourdain's devastating suicide brought to light the number of lives he touched, manifested in outpourings of admiration and support from fellow chefs and public figures. And while his intensely honest TV persona is widely appreciated, accounts from friends and colleagues proved that he was just as incredible behind the scenes. Stories like his work with leukemia patients, or his undying support in advocating for other cultural practices will never completely encapsulate the impact he's had on the cultural world. This month, we remember his work, his talent, and his remarkable life.