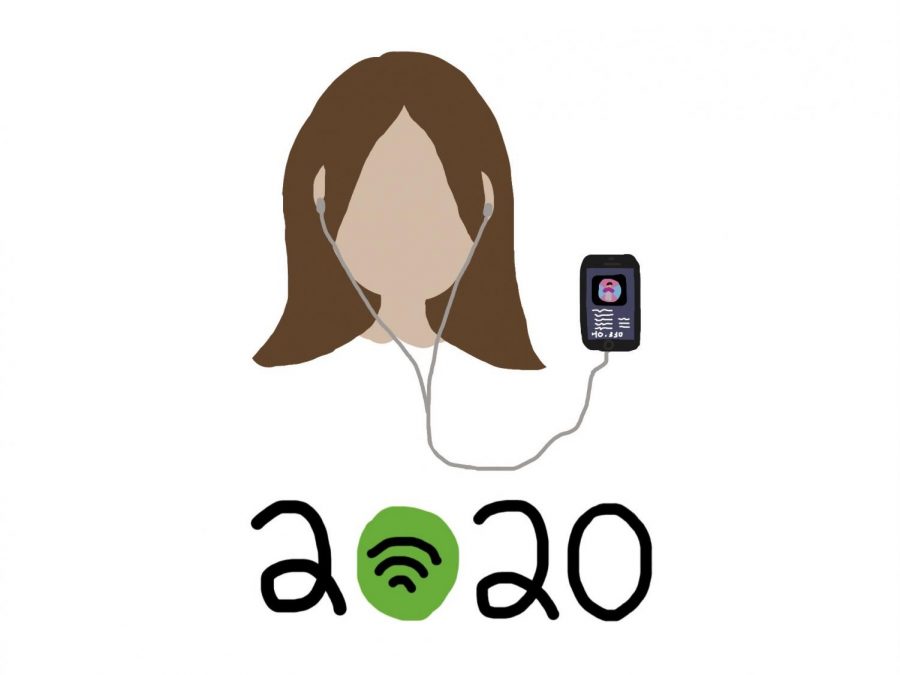 Isabella Minicucci
A few years ago, the streaming service Spotify introduced a feature that allowed its users to access their musical streaming statistics towards the end of the year. From January 1st to October 31st, Spotify collects data measuring users' most played songs, the artists they listened to most, and the number of minutes they spent listening to music. Spotify defines this feature, Spotify Wrapped, as a year in review "where Spotify listeners everywhere get a deep dive into their most memorable listening moments of the year."
Every December begins with a stream of posts on social media platforms in regards to Spotify Wrapped. No matter where you look, Spotify Wrapped content seems to find its way onto your screen. 2020 has been no exception. With the conclusion of this hectic year, all Spotify users received a final breakdown of their past eleven months—in music. Even if you do not use Spotify, you still experience a sense of familiarity from seeing numerous posts concerning Spotify on your feed. When this happens, it is put into perspective that the year is coming to an end.
Over the course of the first few days of December, users compare and comment on these statistics. Sophomore Rhodes Pate shares, "I was surprised by my top artists because I have not listened to some of [them] in a while. Also, I had over 100,000 minutes which is about five hours a day. It was surprising that I listen to music that much."
At the end of each year, Spotify also compiles multiple lists that reveal the top five most-streamed artists, albums, songs, and podcasts over the last twelve months. This year, the most-streamed artist was Bad Bunny, followed by Drake, J Balvin, Juice WRLD, and The Weeknd. Many took to social media to discuss their confusion over how Bad Bunny managed to make the list, let alone be the most popular artist on Spotify. His ranking may account for the fact that he is more popular internationally than in the US. The majority of his songs are in Spanish which could explain the overall confusion of the results here in America.
Furthermore, Spotify created a separate list for this year's most-streamed female artists. Results showed that Billie Eilish received the most streams this year. Taylor Swift came in second, followed by Ariana Grande, Dua Lipa, and Halsey. Eilish has become extremely popular in the past four years. The eighteen–year–old artist won five Grammys this year, including Album of the Year and Song of the Year, which she won over respected artists such as Beyonce, Ariana Grande, and Post Malone. She was also nominated four times for the 2021 Grammy Awards.
According to the "Most Streamed Songs Globally" list, "Blinding Lights" by The Weeknd was the most streamed song on Spotify this year. "Dance Monkey" by Tones And I came second on the list, followed by "The Box" by Roddy Ricch, "Roses – Imanbek Remix" by Imanbek and SAINt JHN, and finally, "Don't Start Now" by Dua Lipa. Almost all of these songs became popular on the app TikTok and are accompanied by viral dances in videos with almost 90 million views. Since TikTok became one of the most popular apps among teenagers, the music industry has been largely influenced by TikTok trends. It is no coincidence that this year's most listened to songs were also trending on TikTok.
Music is influential for many; it helps to relax, but most importantly, music aids people through obstacles. The music that someone listens to can also tell a profusion about one's mental state, therefore, being able to reflect on your music is crucial for self-improvement and self-actualization. Spotify Wrapped can help people figure out what they can do to be their best selves and embrace themselves for who they are.
If you have Spotify and want to find your personalized Spotify summary (if you haven't already), open the app, and it will be the first thing you will see on your screen. Have fun!