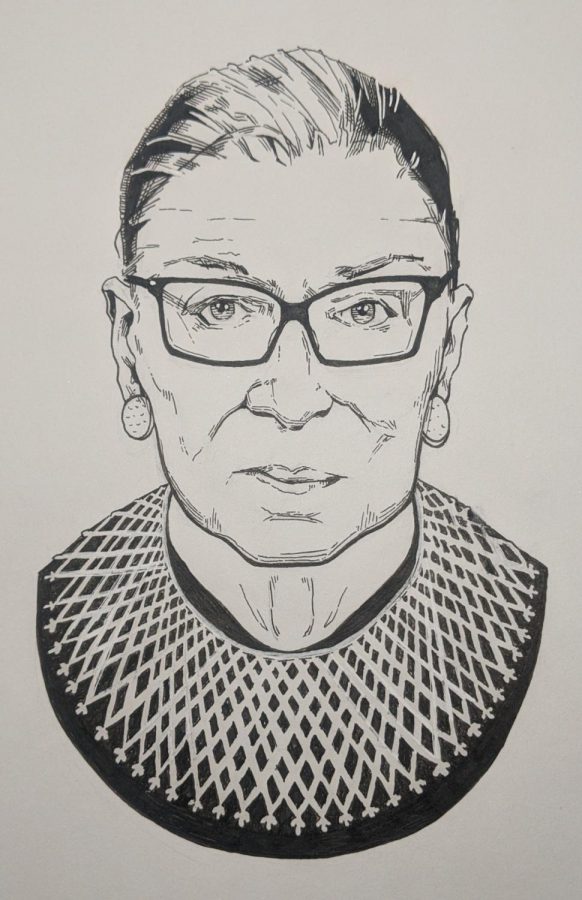 Havana De Celis
On Friday, September 18th, the death of Supreme Court Justice Ruth Bader Ginsburg, popularly known as RBG, shocked the nation. Ginsburg led an incredible life, characterized by her hard work, resilience, dedication, and commitment to the people of the United States. Her passing not only brought immense sorrow among Americans, but also fear. With the November election quickly approaching, the fate of the Supreme Court remains unknown. Whether or not Trump can appoint a justice before the election is determined by Congress, which is currently majority Republican. Regardless of what the future holds, the Register Forum remembers icon Ruth Bader Ginsburg.
Ginsburg was born in 1933 in Brooklyn, New York. After receiving her bachelor's degree at Cornell University, she went on to get her law degree from Columbia University. In college she met her life-long partner, Martin Ginsburg, who was her biggest supporter throughout her career. Apart from completing her own education, Ginsburg had and raised a child, and took care of her partner during his spur of cancer. Before the Supreme Court, Ginsburg taught civil law at Rutgers and Columbia Law School. In the 1970s, she served as a board member on the American Civil Liberties Union. In 1980, she was appointed to the U.S. Court of Appeals, and worked as an appellate judge until her appointment to the Supreme Court in 1993. 
During her service on the Supreme Court, Ginsburg fought tirelessly for equality, most famously women's rights. Some of the cases she supported were Whole Woman's Health v. Hellerstedt (2016), which made it illegal for Texas to place restrictions on abortion services, and Stenberg v. Carhartt (2000), which ensured the safety of women during abortions. One of the most well-known cases that RBG supported was Obergefell v. Hodges, which legalized gay marriage. RBG's fight against misogyny in the courts paved an irreplaceable path for women in America today. Dr. Eva Lam, a CRLS history teacher, explained to the Register Forum, "The work she did for the rights of women and the concept of equal protection under the law was irreplaceable … because her success in the face of misogyny represented the version of America that I want to live in, where good people succeed in demanding that our nation fulfill its founding promises, and we're all better off for it." 
RBG's outspokenness and perseverance made her unafraid to address issues of importance. CRLS history teacher Ms. Lily Rayman-Read told the Register Forum, "What aspect of her loss is it that is most keenly felt? … She stood for the very best we had in our society, and she stood up for the very values we all hope to espouse." RBG's commitment to justice has also inspired younger generations to fight in the same manner she did. Senior Bevin O'Toole explained her personal connection to Ginsburg: "RBG has inspired me to use my voice for justice. Whether that be for gender discrimination or racial justice, RBG introduced to me the power that I hold in my education and the ways in which I use my voice to articulate my concerns." O'Toole continued, "She was truly a fascinating jurist. I credit her for my interest in social justice today." 
Without Ginsburg on the court, panic is creeping in across the nation. Senior Jack Keane explains to the Register Forum, "It really puts in perspective how critical a figure she was in preserving hope for the country."  With the November 3rd election approaching rapidly, the future of the Supreme Court is in the hands of the President. Whether that president will be Donald Trump or his opponent, Joe Biden, is still unknown. Senate majority leader Mitch McConnell set a precedent in 2016: If there is a Supreme Court opening during an election year, a replacement should not be appointed until after the election, yet McConnell has already committed to having a vote on the Senate floor before the election. Nobody knows how the future will play out, but one thing is for sure: RBG would want you to vote.