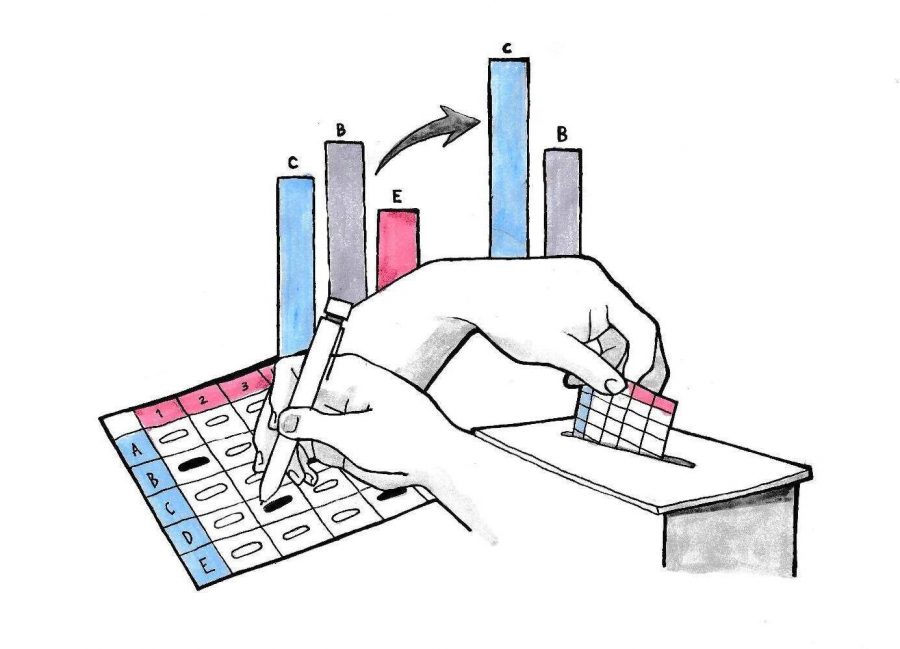 Lara Garay
Since 1941, the city of Cambridge has employed ranked-choice voting in order to elect its City Council and School Board. Rather than simply choosing one candidate to vote for, voters can convey priorities with a second through fifth choice. These slots are weighted respectively in a complex yet effective counting process, which takes place when the ballot is received. This November, Massachusetts voters will choose whether this method of voting should be implemented throughout the state with question two of the state ballot measures. Through voting "yes" on question two, voters have the opportunity to expand their agency when electing state executive officials and legislators, as well as federal congressional representatives. 
In numerous countries outside of the United States, ranked-choice voting is used in one of two ways: instant runoff voting, or a single transferable vote. The Massachusetts ballot proposes a single transferable vote, giving each ballot one vote, which can be worked through the choices as candidates with the fewest first-place rankings are eliminated in a series of rounds. For example, if a voter's first choice was eliminated from the running due to receiving the lowest number of "first choice" votes, then that person's vote would then become a "first choice" vote for the second candidate on their ballot. While the system may seem confusing, it has been done successfully in Cambridge for the last 70 years. Instant runoff voting works very similarly, but is typically used in elections with one winner, as it does not necessarily require continuous counting to ultimately create a list of candidates in order of first place votes, which would be helpful in determining a board or a council. Within the U.S., ranked-choice voting is already in place statewide in Maine, making Massachusetts the second state to implement it in the country if the majority of citizens vote yes on question two. 
Ranked-choice would create the clearest possible representation of electors' mindsets. With the option to still only select one candidate, those preferring non-transferable votes would not have to change their approach to voting. Voters have the freedom of including their chosen number of rankings out of the pool of candidates. Instead of putting the entirety of their voice into one single candidate, they can offer as much or as little support to each as they wish. Voting "no" on question two would eliminate this liberty, and illogically limit elections with several candidates to the processes of those with only two. 
With this genuine representation of voter leanings, the need for negative campaigns would be phased out. As a politician or public official, receiving a second-choice vote from one of your competitors' supporters is better than no ranking at all, and political division would be drastically decreased. Without an all-or-nothing voting system, avid supporters of certain candidates would decrease in number, opening up perspectives to a range of potential board members or legislators, helping to increase informed voting. Volunteers within campaigns would be able to work with less aggressive strategies, asking for a second or third place slot rather than demanding full support. Ranked-choice voting in Massachusetts would also provide more accurate historical data from elections, and provide citizens with a clearer view of the political perspectives within various municipalities. 
An increase in participation could also arise from more widespread ranked-choice voting. Any voters overseas, in the military, or using mail-in ballots for other reasons are less likely to send in a second ballot in the event of candidate withdrawal during primary elections. Ranked choices would simply transfer their vote to their next choice, eliminating the need for another mailed-in vote. 
With voting becoming an increasingly vital part of our democracy, granting citizens with more of a voice and preference will promote voter turnout and contribute to the betterment of the stateーvoting "yes" on question two is imperative.