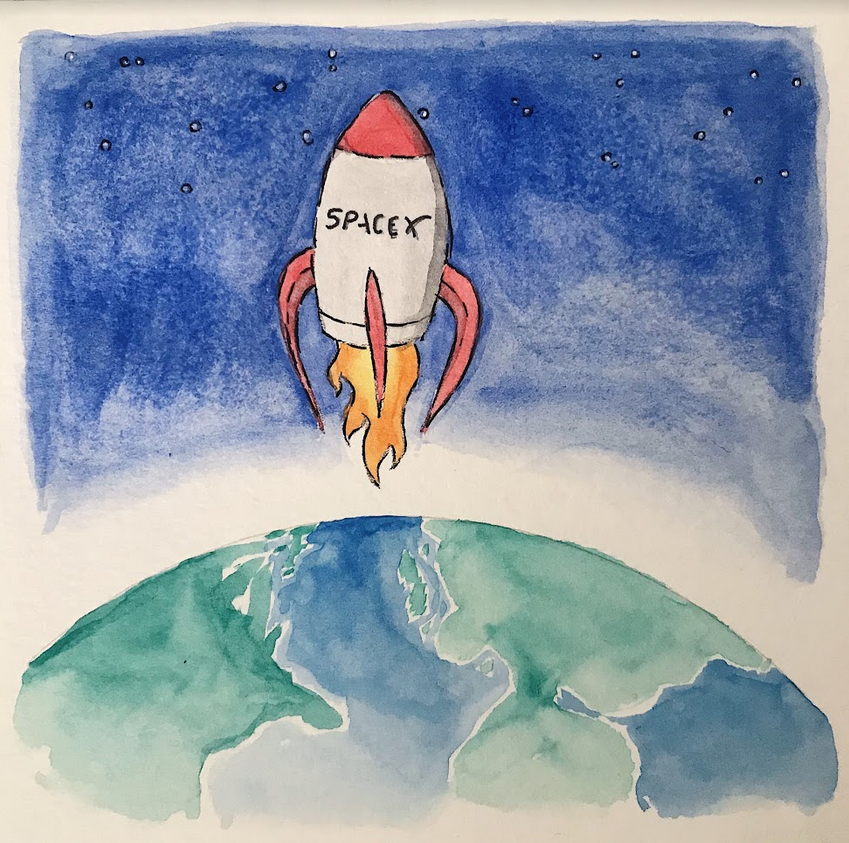 Ada Carter
At 3:22 PM Eastern Time on Saturday, May 30th, the launch of SpaceX's Falcon 9 spacecraft from the Kennedy Space Center made history within the world of space travel and beyond. The craft was headed to the International Space Station carrying NASA astronauts Robert Behnken and Douglas Hurley, who will stay at the ISS for at least the next month.
According to a NASA press release, this launch took place to "validate the SpaceX crew transportation system, including launch, in-orbit, docking and landing operations," and was SpaceX's first test of this mission involving astronauts on board. This spacecraft launch stands out against past launches because it is the first one that is sending astronauts into orbit in a craft made by a private company—in this case, SpaceX, whose founder and chief engineer Elon Musk called this event "a dream come true." The launch attracted worldwide attention, even bringing President Donald Trump, Vice President Mike Pence, and Second Lady Karen Pence to the site to watch in person.
CRLS staff and students have also taken part in the tumult surrounding the Falcon 9 launch. Some are avid supporters of the launch, including Biotechnology teacher Ms. Hiroko Kaczmarek, who told the Register Forum in an email, "It was quite thrilling and breathtaking to watch the launch of SpaceX's Falcon 9 Crew Dragon … I could sense the nervous excitement, even through Zoom, as the NASA-SpaceX mission control announcers started the countdown from T-minus 15 seconds…"
Kaczmarek continued, "These events are the culmination of 15 years of hard work by SpaceX, which also could not have existed without the previous 45 years of space research. I am just amazed at the human brain!" also predicting that "the day of commercial space flights may not be too far away." However, she voiced a concern: "At the same time, I worry about how these future space flights are going to add more human footprints in this universe, especially when the world is FINALLY starting to think about the issue of Climate Change."
Several CRLS students also expressed dissatisfaction and doubts regarding the launch, with its unprecedented organization by a private company and some stigma surrounding Elon Musk. According to one freshman, who wished to remain anonymous, "I'm not sure how I feel about it being a private company. I think we'll definitely have to make some new laws in the next few decades related to space travel, since it's so new." Another CRLS student who asked to remain nameless is "skeptical because Elon Musk is certainly a controversial character in my eyes," believing that some comments Musk has made in the past, such as about artificial intelligence taking over, are worthy of concern.
While views on this SpaceX launch are undoubtedly divided, it seems safe to say that the launch has had both positive and negative impacts on the world. Such a groundbreaking historical moment in time is certainly deserving of attention, whether or not the majority sees it as a good or bad event. "I think that it's great that we're able to have a new beacon of hope amidst all the terrible things in the world right now," says freshman Analia Fister. Indeed, the launch can reasonably be considered a new beacon of hope, especially with the fact that it has changed the course of aerospace, science, and the world.