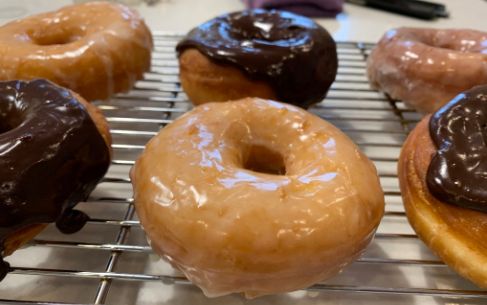 Maya Goldstein
Be warned: this recipe takes time. Make the dough the day before you want to serve the donuts; pretty much every step takes longer than you think, so give yourself plenty of time to execute all of the steps, and don't skip any. But, all of the intricate steps and time are definitely worth it in the end!
*pro tip: save the donut holes to make your own DIY munchkins!
Ingredients
Donut "dry" ingredients:
30 oz all-purpose flour
¼ oz salt
2 oz honey
1 packet yeast (about 1 tbs)
4 oz unsalted butter, cut into small pieces 
Vegetable oil for frying
Donut wet ingredients:
4 oz egg (this is about 2 whole eggs + 1 egg yolk)
3 oz honey
1 oz vegetable oil
2 ½ tsp vanilla
16 oz whole milk, room temperature
Directions
In an electric stand mixer fitted with a dough hook, mix together the flour, salt, 2 ounces of honey, the yeast, and the butter. Let the mixer run for about 5 minutes, or until all pieces of butter have been somewhat smashed, but are still visible. If you don't have a stand mixer, it is possible to make this recipe, but it will require much more effort! Simply follow the recipe as is (stir in a bowl, then hand knead), but double the kneading time stated for the stand mixer. 
While the mixer is running, whisk together the egg, 3 ounces of honey, 1 ounce of vegetable oil, vanilla, and milk. Slowly pour this mixture into the dry ingredients. Let the mixer knead for about 5 minutes, and then turn onto a clean work surface and knead by hand for about 5 more minutes. If necessary, add a bit of extra flour, but try to add as little as possible. Lightly oil a large bowl (big enough for the dough to double in size) and place the dough in it. Turn the dough around so that it is completely (lightly) covered in oil. Cover with plastic wrap and let sit in a warm place (I like to put it in a turned-off oven or microwave, just because they tend to remain warmer than my cold New England "room temperature" rooms) until the dough has doubled in size. This takes about 2 hours. Once the dough has doubled, transfer to the fridge until the dough has completely chilled (overnight in the fridge is ideal). 
After the dough has chilled, turn it out onto a clean work surface, and with a rolling pin, roll to about ½ inch thick. Punch out donuts to desired size (ideally you would use two cookie cutters, one about 4 inches in diameter and the other 1 inch in diameter—however, I don't have circular cookie cutters, so I used the lid of a wide mouth mason jar and a small medicine cup to punch out the inner hole). 
Cut out squares of parchment paper just bigger than the size of the donuts and place them on a baking sheet (the squares of parchment paper will help drop the donuts into the hot oil easier). Place each donut onto its own square, lightly oil plastic wrap, and place over donuts. Let the donuts proof a final time in a warm space until slightly puffed up, about 20 minutes. 
While the donuts are rising, heat a large pan with about 4 inches of oil. Heat the oil to 325℉ (use a candy thermometer to monitor the temperature; you will have to play with the heat on the stove to maintain the temperature). 
After they have risen, the donuts are ready to fry! Gently place the donuts into the oil (as scary as this may sound, there is less oil splashing the closer to the oil you place the donut—but be careful, the oil is very hot!). Let them cook until lightly golden brown, about 2-3 minutes. Flip and cook for about 2 more minutes. Once the donuts are properly golden, place them on a plate with a paper towel, dab the oil, and place them on a wire cooling rack with a baking sheet underneath. While the donuts are warm, you'll want to glaze them (my recipe for a simple glaze and a chocolate ganache are below, but feel free to top however desired). Repeat the process with the donuts and donut holes. These (like all donuts) don't keep very well for very long, so eat them as soon as possible!
Simple Glaze:
In a small bowl, whisk together 600 grams of powdered sugar, a pinch of salt, 2 teaspoons of vanilla, and 150 grams of milk. This glaze sets quickly, so cover the donuts in it while they're hot! 
Chocolate Ganache:
In a small saucepan over low heat, combine 2 tablespoons of unsalted butter, 1 cup of semisweet/dark chocolate (chips or chopped chocolate), 6 tablespoons of heavy cream, 1 ¼ cups of powdered sugar, 1 teaspoon of vanilla, and a pinch of salt. Whisk until homogenous. Lightly pour over donuts.