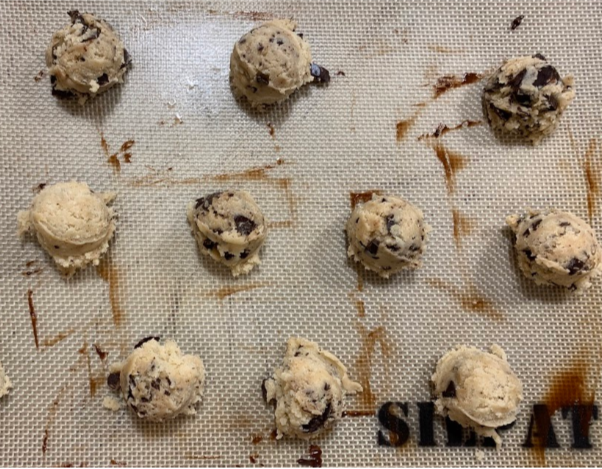 Maya Goldstein
At the end of February, I decided to go vegan for a month. The decision to go vegan was due to a variety of factors, the main reason for me being the environmental impact of consuming dairy. But, as an avid baker, this posed a threat: how would I continue to create cakes and cookies as frequently as I normally do? At the start of my "vegan month," I opted to avoid vegan baking altogether. It seemed daunting. After doing lots of research about how to perfectly brown butter, or how to beat eggs the right amount to make a cake the perfect fluffiness, how would my baking be as good as it had been previously without these key ingredients? But, after about half of the month, I caved—I needed to make chocolate chip cookies. So, I bought vegan butter and began making cookies. I think these came out pretty good. 
Ingredients:
½ cup vegan butter, softened (my favorite is the Country Crock Plant Butter with Avocado Oil, which you can find at pretty much any normal grocery store at the same price as most dairy stick butter)
¾ cup brown sugar
¼ cup white sugar (just be careful, some white sugars are NOT vegan!)
¼ cup non-dairy milk (I like Silk almond milk, but any unsweetened, unflavored non-dairy milk works)
2 tsp vanilla extract
2 cups all-purpose flour
1 tsp baking soda
1 tsp baking powder
¼ tsp salt
1 cup vegan chocolate chips or chopped chocolate (my favorites are Guittard Semisweet Chips, which are kinda pricey, and Trader Joe's 72% Pound Plus bar, which looks like this, but don't buy it from Amazon! It's only $4.99/huge bar from TJ's, and Amazon is bad)
Directions:
Preheat oven to 350°F.
In a large bowl, beat together butter and sugars. Add non-dairy milk and vanilla and mix again. 
In a separate bowl, whisk together flour, baking soda, baking powder, and salt. Slowly incorporate the dry ingredients into the butter/sugar/milk mixture. Mix again, but only until the ingredients have just barely come together. It is okay for there still to be streaks of flour. Add the chocolate and mix a final time, this time there should be no streaks of flour remaining. 
Scoop the cookies out to whatever size you prefer—somewhere between the size of a penny and a hockey puck—and bake. Depending on the size, the cookies should take between 9-13 minutes, so just keep an eye on them. Keep in mind that, even when the cookies are ready, they will not turn as golden brown as a regular, dairy/egg-filled cookie. Let cool (or don't), and enjoy!