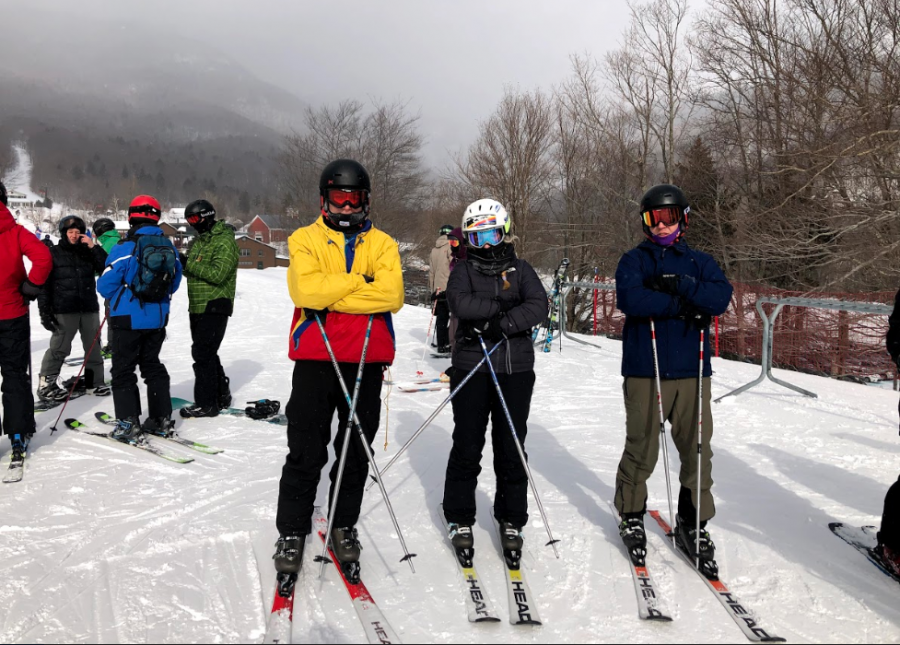 Photo courtesy of Tenley Ransom
Saturdays can be boring. We've all been there. Perhaps you want to do something exciting; you want to get on your feet. Do not fret—the Ski Club is here to the rescue!
Ski Club, founded in 1979, is an extraordinary program at CRLS. Being a part of this club does not mean you have to go on every trip—you go when it is convenient for you.
The Ski Club offers day trips, which are accessible to all. These trips bring students to Waterville Valley Resort in New Hampshire, which is only a two-hour drive away. Just by having a guardian sign a few forms, you're able to venture off for an entire day of skiing. For $50, almost everything is provided: the bus ride, chaperones, and the lift ticket, and with an additional $5, students can get rentals and lessons respectively, if needed. This is a whopping bargain considering that lift tickets on their own cost $78 in Waterville. All you have to do is sign up, pay, and boom—you're off at 6:00 AM from CRLS to enjoy the day at the mountain, and back before you know it at 6:00 PM.
Furthermore, the Ski Club trips are for people of all skiing and snowboarding levels; the trips allow both beginners and advanced skiers to progress in their skills. This past February break, the Ski Club went on its annual three-night outing to Stowe, Vermont. Sophomore Lucas Cannistraro, an experienced skier, explained that "Stowe is a great mountain. There's Spruce Peak if you're just learning, and then they also have Mansfield with all the double blacks so that the more advanced skiers can have fun as well." Both Waterville Valley and Stowe have ski slopes for the entire spectrum of skiers, meaning that all students, regardless of their skiing or snowboarding level, can have fun and improve on the trips. Cannistraro was able to become a better skier on the trips, but beginners were able to do so as well.
For example, the February break ski overnight was freshman Isabel Wigginton's second time skiing. Wigginton remarked on her journey: "I never learned how to ski. My family doesn't ski, so I wouldn't have gotten to learn how unless I went on the trip." Wigginton became a better skier throughout the three days of skiing as she improved her "turning skills, control, confidence," and also went on more difficult slopes. Maybe you're scared to go skiing for the first time, but with beginners and advanced skiers all around you, you will improve within just one trip.
Additionally, Ski Club trips can improve your mental health. Austin Guest '21 explained that "while skiing, you're really in your own head. It really gives you time to decompress and think. You get to relax and spend time in the woods." Being away from the city of Cambridge and on the slopes airs out your mind; you are surrounded by snow and trees. After all, it always strengthens your mind when you go out of your comfort zone and enter a new environment.
To reiterate, don't miss out on the Ski Club trips. With such an accessible adventure at your fingertips, it would be a shame to graduate without taking advantage of this opportunity. If you want to learn more, email club president Gabriel Traietti at [email protected] for more information.
This piece also appears in our February 2020 print edition.