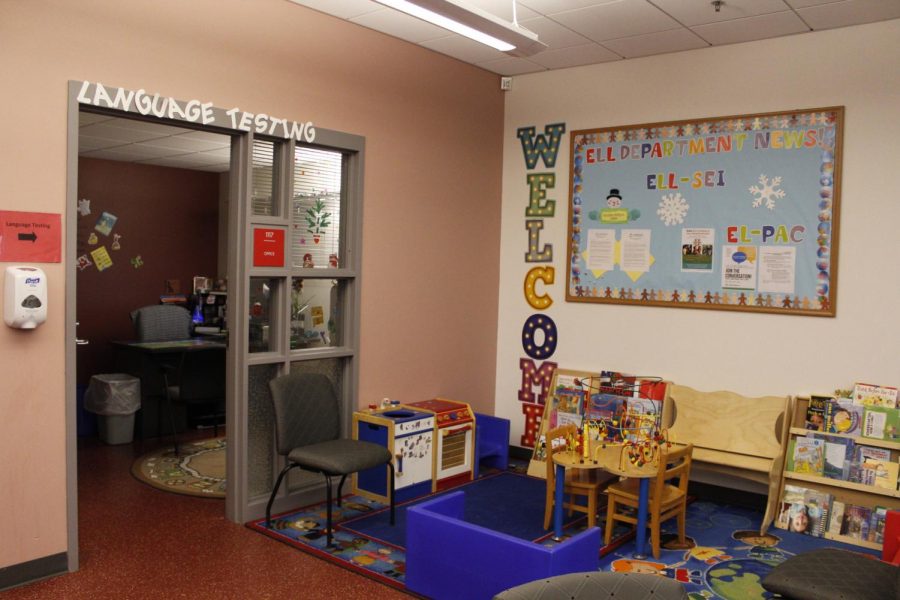 Willa Rudel
"This is how [students] get into Cambridge Public Schools, whether they know it or not. Everybody has come through here. So they might not know it, but they've been a part of this office." Meet Kathy Sampson: the Interim Director of Student Registration. This central office can be found by taking a door directly under the Cambridge Rindge and Latin school sign by Broadway street; it is the only center separate from the CRLS administrative building.
Working in the office for 10 years now, Sampson's main job is to find schooling for each student who comes into the CPSD district based on space availability and following Controlled Choice Policy. Sampson explains how "Everybody who comes into the district to go to school has to come through the office and we process their registrations for preschool through high school." When families are deciding on a school for grades junior kindergarten through eighth grade, they get to rank their top three choices. Whether or not they are placed in the school of their choice is determined primarily by space, waitlisting, and socioeconomic balancing. When a school is full, Sampson searches for other options. If there is only one school available, then that's where the family is assigned; otherwise, families choose between the available options. For high school, all families are assigned to CRLS, or students are accepted to the High School Extension Program (HSEP) and the SRC enrolls students into HSEP.
Sampson points out that the Registrar is always interacting with other departments as they often overlap. For example, Sampson remarks how "Marlyn Rosa is the language testing specialist. She works for the Department of English Language Learners Programs. However, it doesn't feel like we work for a different department, because we are all a team here."
Ilda Zheku, who has worked as a clerk for the Student Registration Center for four years, stays posted at the front desk for most of the day and comes in contact with almost every family entering the CPSD system. Whether from a young age, out of state, overseas, or even through a foreign exchange program, Zheku works hard to ensure that each student is properly registered and prepared for entering the CPSD district. Zheku adds that, specifically, her role is managing "the high school registration, enrollment, and the Special Start registration, which is for the little kids—the three-year-old students."
In regards to challenges, Zheku tells the Register Forum that "You have to explain to some foreign exchange families or any family coming from overseas how our district works. They're not used to this system that we have here in Cambridge. So you have to be patient, explain the process. Why is it different? What's the purpose of it being different? What we are trying to accomplish?" Although it may be a challenge, the department is strong in supporting international families. To further aid the transition process, Sampson adds that the Registrar has "three bilingual Liaisons: Joseph Rivera who is a Spanish speaking liaison; Jardine Jerome who works with Haitian Creole-speaking families; and Aboma Dirbaba who works with families who speak Amharic. They work with students and families together [through] translation at meetings, and work with the kids to help transition into the English language program." These liaisons are in the center working eight hours a week and then spend the other 32 hours with the international families in school.
The cultural transition from overseas into the CRLS community can be very drastic depending on the student applying for a foreign exchange program. Zheku explains and assesses the unfamiliar factors of how the high school functions, making sure that students are ready to immerse themselves in a new academic experience at CRLS. 
Despite all the effort Sampson, Zheku, and other members of the Student Registration team put in to prepare new students for the school environment, a portion of the responsibility falls on the student body to help incoming students feel comfortable, accepted, and integrated at CRLS. As Sampson advises the student body, "be mindful that a lot of students are new and moving into the district; throughout the year, there are always new students coming. So many people come all the time that I think you're very lucky to have a lot of new energy."
This piece also appears in our January 2020 print edition.