Collaboration Goes Deep in Underwater Robotics
CRLS Team Meets with Students from Saudi Arabia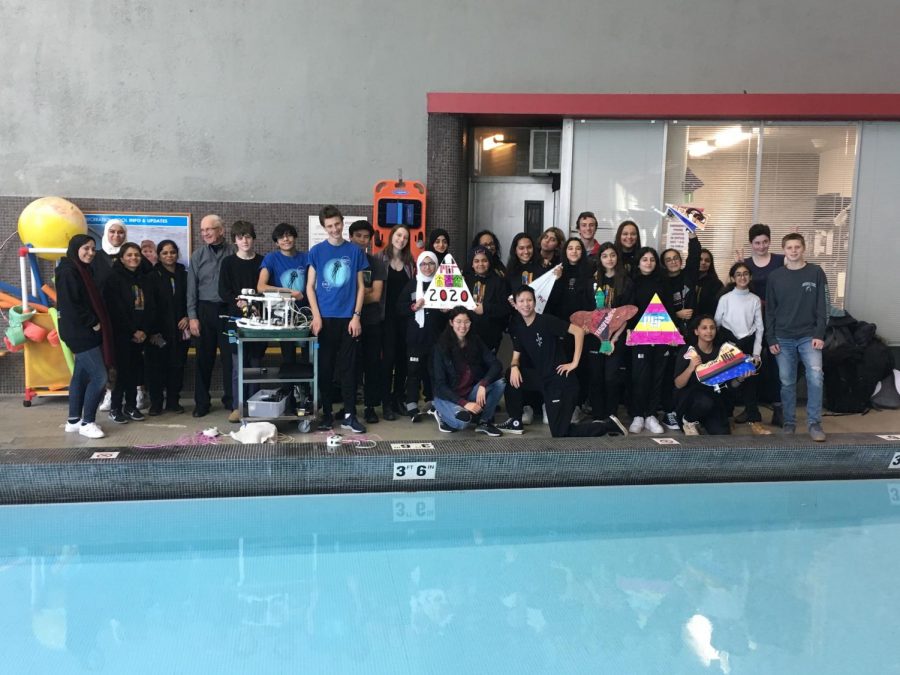 Every Thursday after school, around ten people gather in the third-floor marine biology room to create robots that can maneuver underwater. The CRLS underwater robotics team, known as Chromis Robotics, has been around for over 20 years. In this time, they have won two national championships, multiple regional championships in New England, and continue to compete against teams from countries all over the world. 
On November 14th at 1 PM, the Chromis Robotics team walked to the Massachusetts Institute of Technology (MIT)'s Edgerton Lab, a center for electronics and engineering. MIT invited CRLS and a group of 20 middle and high school girls from the Bayan Gardens School (BGS) in Al-Khobar, Saudi Arabia. The purpose of the meeting was for both teams to learn more about robotics and give feedback to one another. The BGS team came to MIT the week of the event, so they had three days to build their robots, with limited experience in Remote Operated Vehicles (ROVs). BGS is a bilingual school that teaches classes in both Arabic and English. While they offer some engineering classes, the students do not receive a lot of instructions pertaining to robotics. The most incredible thing was that these girls were only able to put in a couple of hours of work compared to Chromis Robotics, which has been developing its robot for over a year.
There were multiple ROVs made by the BGS students, and they worked on them in groups or individually. The girls from Saudi Arabia displayed creativity with their designs: they made robots in the shape of paper airplanes, ducks, and even one colored like the pansexual pride flag. There was one girl celebrating her eleventh birthday who created a robot in the shape of a camel. The co-CEO of Chromis Robotics, senior Danny Klein, was ecstatic. "I was so impressed by their robots. We have been working on ours for over a year, and while their bots were smaller and designed to do less, they were fully functioning after about eight hours of work."
The students piloted the robots in a pool, challenging them to do various activities like picking up a water bottle and racing. After the event, the teams had enlightening conversations about different strategies to improve their work. The CFO of Chromis Robotics, Claire Woppmann '20, felt that the BGS team's advice would help modify her team's design for their upcoming annual competition, saying, "Their ROVs used such low voltage that their wiring didn't need to be encased in anything to keep it dry, as it didn't present a safety hazard or interfere with the connections." Woppmann elaborated on her statement when she discussed how Chromis Robotics planned to build a micro-ROV for one of the challenges this year. 
The advisor to Chromis Robotics, Paul McGuinness, was proud of his students and the robots they built. He was happy that the team was able to have this experience, saying, "They were really excited to meet with another team, especially a team of all girls. We have a lot of female representation in our team, so they wanted to see what Saudi Arabia's team looks like, what their robots look like, and what their background in robotics is." 
It wasn't only the people that made the experience worthwhile; the workspace played a huge role in helping both teams collaborate. Chromis Robotics's other co-CEO, Franny Oppenheimer '20, commented about her experience, saying, "The Edgerton Lab was totally awesome. The program organizers were kind and helpful, and the space was beautiful and full to the brim with interesting projects. The team really welcomed us into their space."
This piece also appears in our November 2019 print edition.