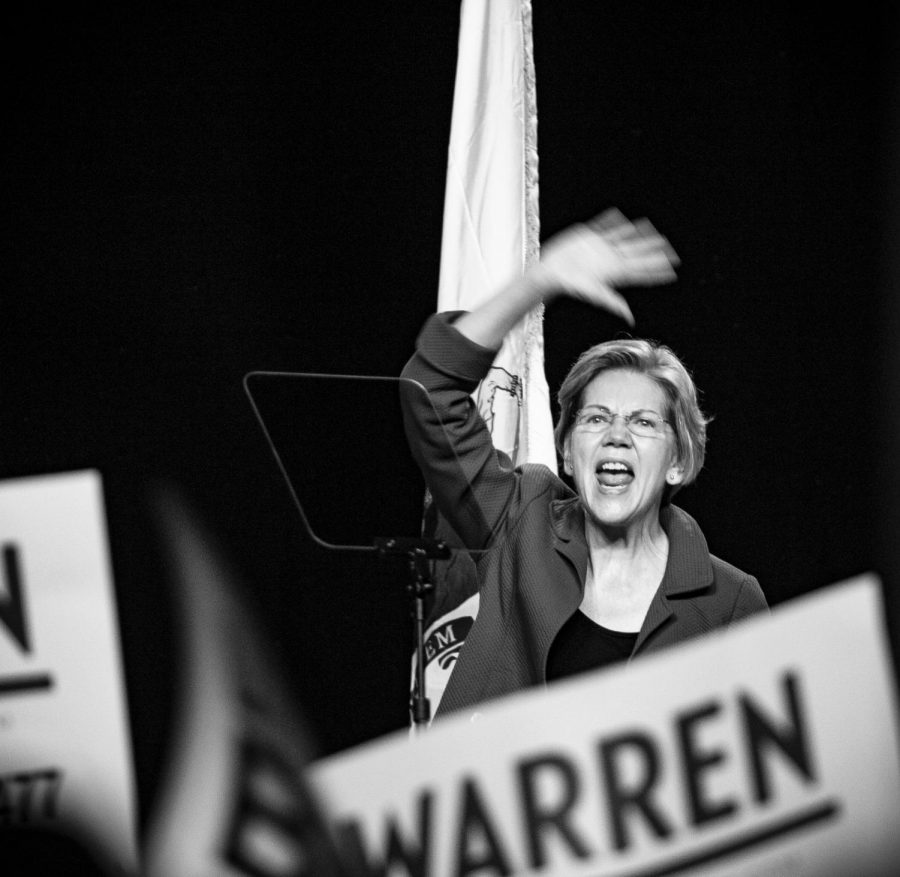 Bruno Muñoz-Oropeza
Elizabeth Warren, one of the current Democratic candidates for president, is, among other things, a Cambridge resident of nearly two and a half decades. 
Warren first came to Cambridge to work at  Harvard Law School. Prior to this move, she studied bankruptcy law and became regarded as an expert in the field. Following her graduation from Rutgers Law School, Warren held several part-time jobs at various universities, including Harvard. Eventually, in 1995, she became a full-time professor at Harvard Law School until she announced her campaign for the United States senate in 2011. While working at Harvard, Warren helped to establish a new federal agency called the Consumer Financial Protection Bureau.
After a long election in which she was repeatedly told that a woman could not be elected to the senate, Warren became a Massachusetts senator. 
Senior Zev Dickstein began volunteering for Warren's senate campaign at the age of nine after hearing her speak on the radio about holding corporations accountable for the damages they can cause. Dickstein explained that what drew him to Warren in the first place—and what he admires about her now—is her consistency and how, over the years, she has always maintained the same goals. He described Warren, saying, "She'll do whatever she sees as the best fit for achieving the goal. She's a goal-oriented person." From her 2012 senate election to the upcoming 2020 presidential election, according to volunteer coordinator Larry Field, Warren has maintained the same core message of economic inequality. Previous volunteer and CRLS junior Luke Santos described Warren's senate campaigns as an effective "dry run" for her presidential campaign. 
According to Dickstein, the same tenacity and thoroughness Warren exhibits in her advocacy, she exhibits on the campaign trail. Just as Warren is able to take her focus on a specific issue and build it into a general drive for success in meeting her goals, she has taken her experiences campaigning in Cambridge and carried them to the presidential trail. "The way that she campaigns, the way that she campaigned in Cambridge, really trying to meet every single person, is the same thing that she's doing across the country," Dickstein explained.
While at Harvard Law School, Warren worked passionately to win consumer bankruptcy cases. Dickstein elaborated: "You can see a mini-campaign in Cambridge before that when she was at the law school trying to win important cases regarding consumer bankruptcy."
In her time in Cambridge, Warren has obtained a group of volunteers like those you can only accumulate in the place you live. "People here who are volunteering, they know Elizabeth, more or less, a lot of people work[ed] with her at Harvard Law School, or they are her neighbors and they've known her long before she ran for office," Dickstein explained. "So it's more [of a] community." According to Field, during Warren's 2012 senate race, "there was a really astounding response to Elizabeth Warren from Cambridge volunteers." Field described two dimensions that made Warren's support in Cambridge so special: First, the sheer number of volunteers she drew was greater than many other campaigns in Cambridge in the last 20 years, and second, Cambridge volunteers were volunteering more frequently than those from other cities. "At the presidential level, it's definitely been pretty active," Santos asserted, describing how Warren's campaign has a significant number of volunteers from Cambridge and the greater Boston area who are able to go out to other states, like New Hampshire, to canvas for her campaign. The dedication of  Elizabeth Warren's local volunteers is something Dickstein thinks is unique: "when you know a candidate that's running and then they know you as well, it's a different type of thing, you know exactly why you're volunteering, and you know more about the person." 
Warren has taken those local connections and the personal nature of her campaigns in Cambridge and tried to replicate them on a broader scale. "Right now, she's trying to connect with people around the country to get to know them the same way she knows people in Massachusetts, and I think it's working," Dickstein said. "It's pretty exciting to see."
Lucy Engels also contributed to this piece. 
This piece also appears in our October 2019 print edition.